Netflix has been upping their foodie programming with hits like Ugly Delicious, Salt Fat Acid Heat, Chef's Table, and Somebody Feed Phil. Most of Netflix's original food series have been relegated to the "food/travel" genre. Now they're dipping their toe into the cooking competition category with recent hits like Nailed It.

The Final Table is their latest entry in the cluttered cooking competition genre. The Final Table seems to be the fever dream of someone who binge-watched all the episodes of Chef's Table and Top Chef.  What sets this series apart from the other cooking shows on television is the level of both chef contestants and judges. This isn't randomly selected oddball ingredients sloppily put together on a plate by recent culinary school grads that were sabotaged by having to cook everything in an Easy Bake Oven. This is haute cuisine expertly prepared and plated by Michelin starred, as well as notable up-and-coming chefs, that would easily be part of an 18 course tasting menu costing in the high three digits. Their dishes are judged by a who's who of culinary legends like Grant Achatz, chef/owner of the three Michelin starred restaurant and one of my personal bucket list restaurants, Alinea, in Chicago, IL. And Helena Rizzo, chef/owner of Mani in Sao Paulo, Brazil and holder of one Michelin star.

Even some of the chef contestants have multiple Michelin starred restaurants of their own. Shin Takagi is the chef/proprietor of Zeniya in Japan that holds two Michelin stars. Timothy Hollingsworth worked at the French Laundry under Chef Thomas Keller for a decade before opening up his own restaurant, Otium in Los Angeles in 2012.

The 24 chef contestants are divided up into twelve teams of two. Each episode is devoted to a particular country and each team is tasked with making their version of that country's signature dish. The countries for season one were Mexico, Spain, UK, Brazil, India, USA, Italy, Japan, and France. Those dishes are judged by that country's "ambassadors" consisting of two celebrities and an established food critic. The three teams with the least favored offerings then "cook for their lives" and be judged by one of the nine Final Table judges. The Final Table judge chooses an ingredient for the three teams to focus their dish. The losing team is sent home. This formula repeats each episode until only two teams remain, then it shifts gears and the four chefs from the two teams are pitted against each other in individual battles until only one chef is left standing. The prize? Not money (at least implicitly stated on the show) or an executive chef job at one of Gordon Ramsey's restaurants. The prize for the winning chef is a seat at "The Final Table," joining the nine judges and enjoying the respect and accolades of their peers. Essentially, high end bragging rights.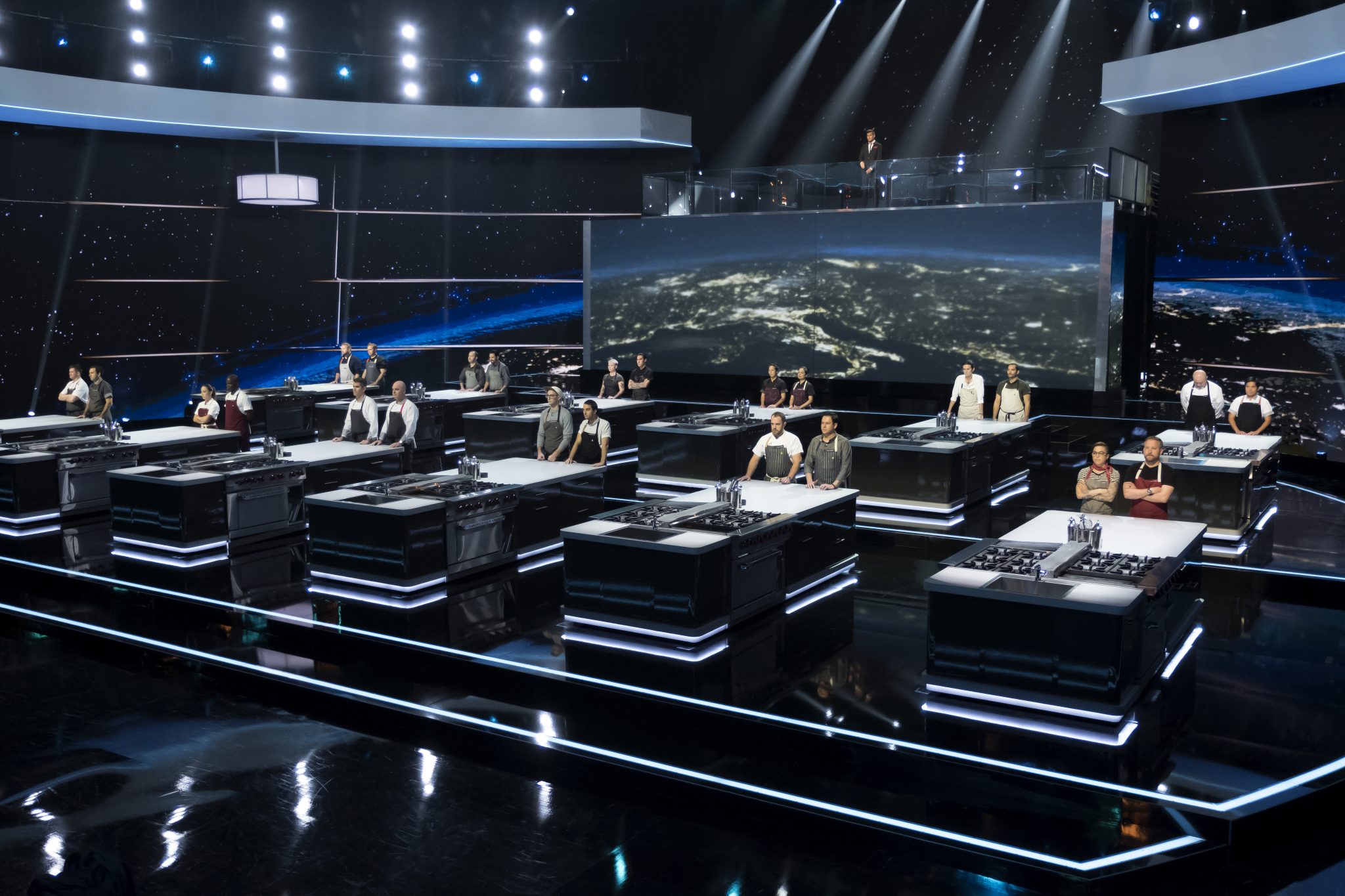 What I liked.
If you're a fan of Chef's Table, you're going to see a lot of the same cinematography elements here. Learning about the background of the chef contestants and judges feels like a B-roll mini-episode of Chef's Table. You learn their stories, their struggles, and become emotionally invested in their progression through the competition. There are beautiful overhead tracking shots of the work stations that I hope more cooking competition shows duplicate. The soundstage is massive with bright, room sized LED screens and a judging platform that rises high above the ground, giving the judges a wide angle view of the action. And for good measure, there's also a live studio audience. There was some obvious money thrown at this project. The whole show was polished and seemed as high end as the food and the chefs. I also thought the show was well paced. The frenetic cooking was interspersed with the background vignettes. There was a good balance in trying to feature each chef; difficult to do in the early episodes when there's 20+ contestants and nine judges for which to give airtime. The focus of cooking a signature dish for a particular country made for some interesting stories. For instance, in episode one, the country was Mexico and the signature dish was tacos. Seemingly a creative blank slate and easy task for 24 accomplished chefs, one would think. However, Shin Takagi has cooked Japanese cuisine for most of his career and in his video vignettes mentioned he hadn't eaten a taco since 1986. Both Shane Osborn and Mark Best have been a part of multiple Michelin star restaurants all over the world, have restaurants in multiple countries, but readily admitted that somehow "Mexico was their blind spot." In their video, Mark looks over to Shane and asks, "What do we know about Mexico?" Shane replies, "Ay Caramba!"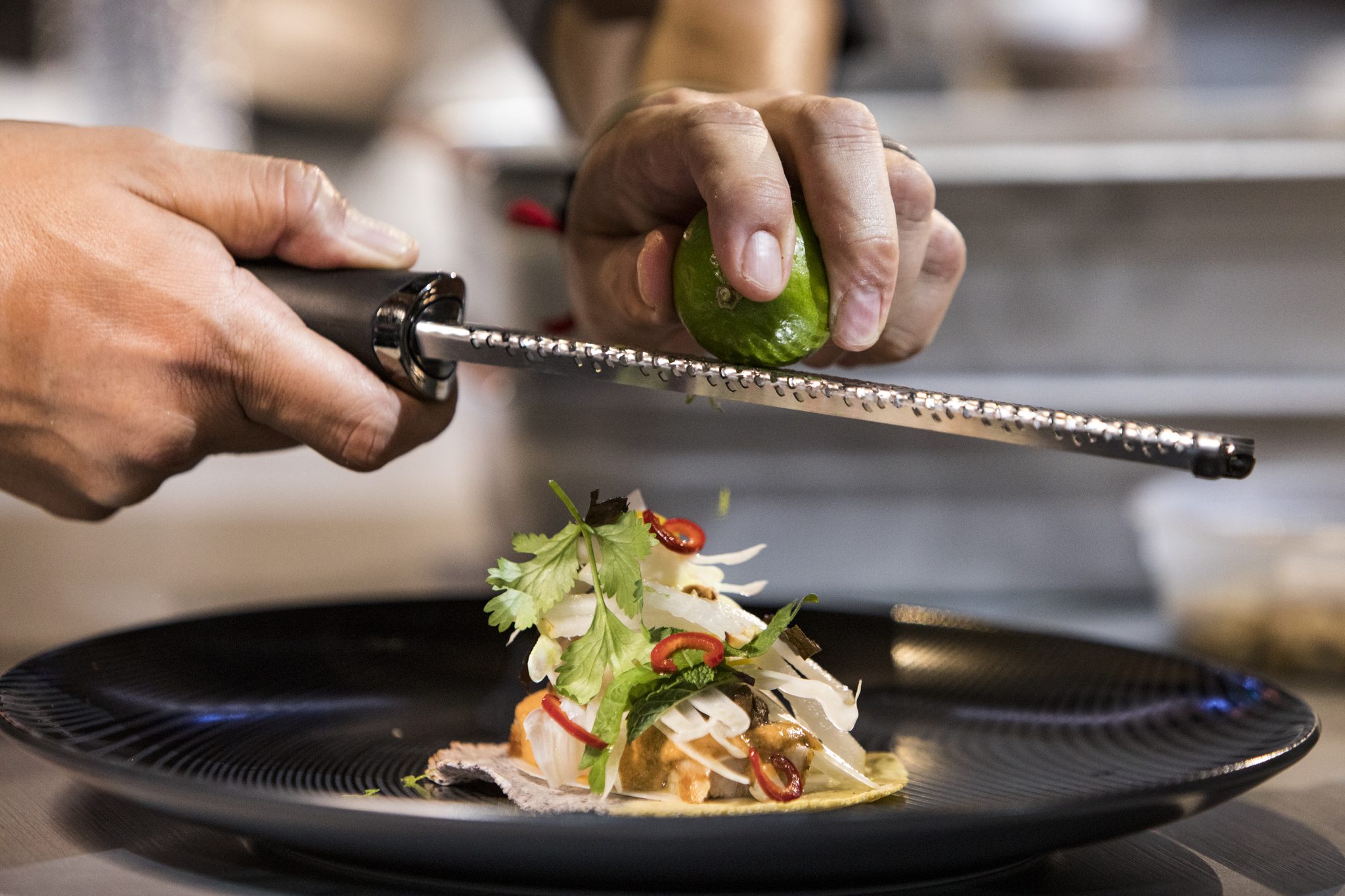 What I Didn't Like.
Bon Appetit Magazine's "Editor-at-large," Andrew Knowlton serves as host. I listened to Knowlton in podcasts and seen him on Bon Appetit's videos on YouTube. He seems like an affable and likable guy. I'd love to meet him and pick his brain about stuff. His knowledge of food and the influential players in the industry are without question. But for whatever reason, in The Final Table, he seems stilted and lacked charm or any kind of charisma. His interaction between the contestants and judges seemed forced, as if he was reading right off an index card.

There also seemed to be a lack of female representation. The restaurant industry already has a reputation of being a "boy's club." Female chefs are making a mark and bursting through the glass ceiling around the world, however, among the 24 contestants, only five were female. Only one of the 12 teams consisted of two females, the other three females were on mixed gender teams. Of the nine Final Table judges, only three were women. For the USA episode, the "ambassador" judges consisted of three white men. Read into that what you will. Listen, I'm not some "hyper-woke social justice warrior (at least not as woke as this reviewer for Quartz)" looking for microaggressions, but women have made great strides in the hospitality industry and I wish there were more of them represented among the pantheon of great chefs contestants and judges on this show.

Overall, I thought the show was great and a great addition to the Netflix slew of other food shows. With the barren wasteland of TV shows during this time of year, curl up on the couch, settle in, and give The Final Table a binge watch. Here's hoping for a season two.