After two home preseason games and three sweltering September home games, the bulk of the home game days (before the playoffs…) are behind us. The Jags food service team run by Delaware North feeds the entire Jaguars organization daily, including many special dietary requirements, but certainly the biggest undertaking is feeding 60,000 people in one afternoon. What have we learned? Has the game day food experience improved over last year?

This year was a lot more hit and miss than just plain miss like past years. That's progress. The food being served has definitely become more consistent. The folks serving food seemed to be better trained or it's possible we just ran into more capable folks who happened to serve us. We still had some weird issues like showing up at a concession stand during the preseason where there was no water because the cooler was locked and no one had a key or any way of opening it.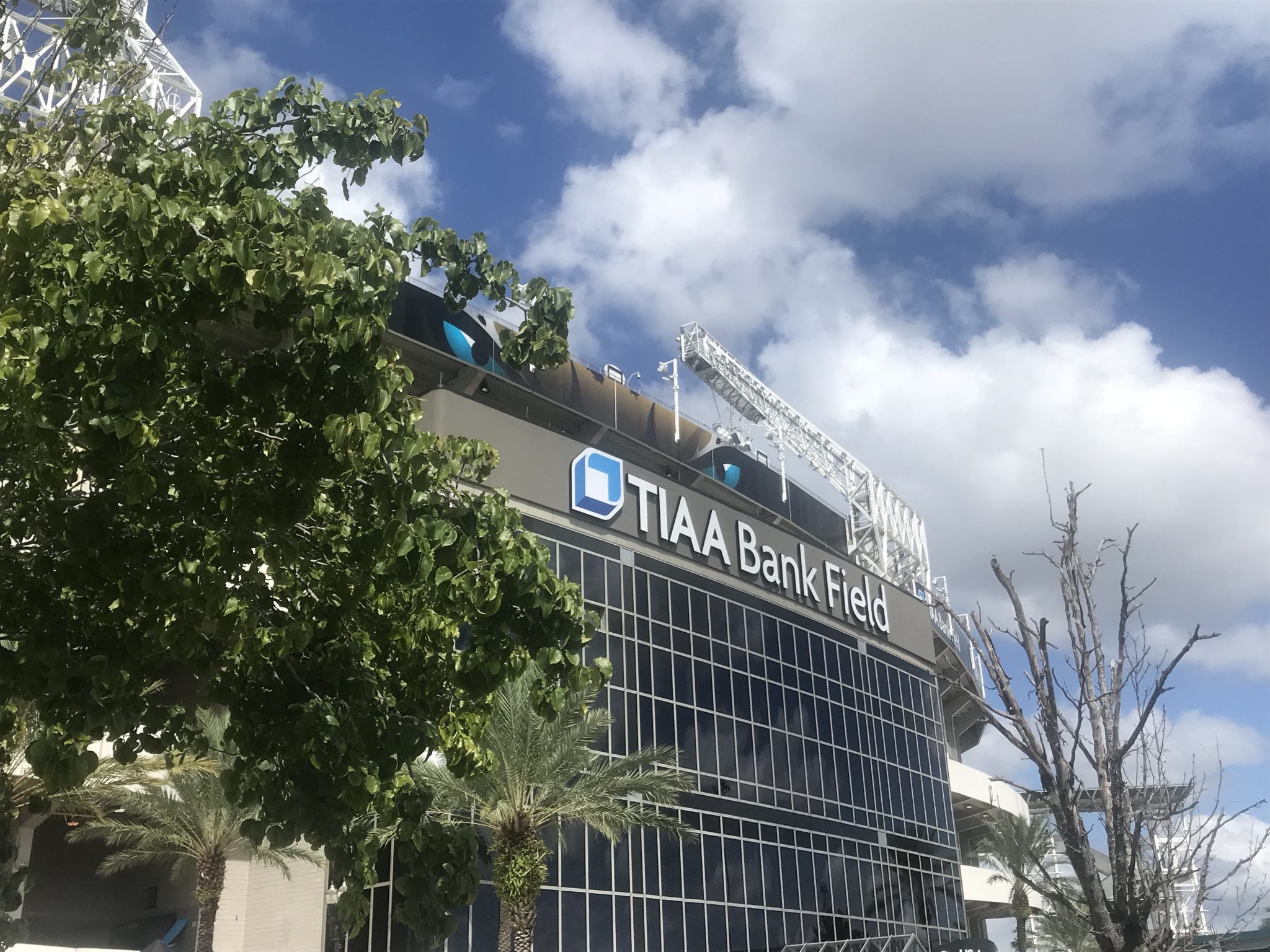 There are a number of new dishes and foods to try at the Jags games this year. For the most part it seems like Delaware North has tried to be creative yet uncomplicated so they can deliver on game day. It's a smart plan.

First, let's talk about the reign of the teal buns on hotdogs and burgers. There's a lot of mixed reactions on social media, but we are 100% here for it for the following reasons: (1) The buns have to be fresh because they can only use them for the Jags games. (Somebody tell me if they sell teal buns at Monster Jam this year.) (2) It adds fun and whimsy to the games. We're still a relatively young team at 20 years and in the past decade have struggled to work out real traditions. There have been a lot of misses as far as chants and cheers for the crowd. But teal buns? That's fun and uniquely Jaguar. Fight me. (3) If your biggest concern is the food dyes used to make the buns teal, I don't think you were going to buy a hot dog to begin with. (4) They make for fabulous photos!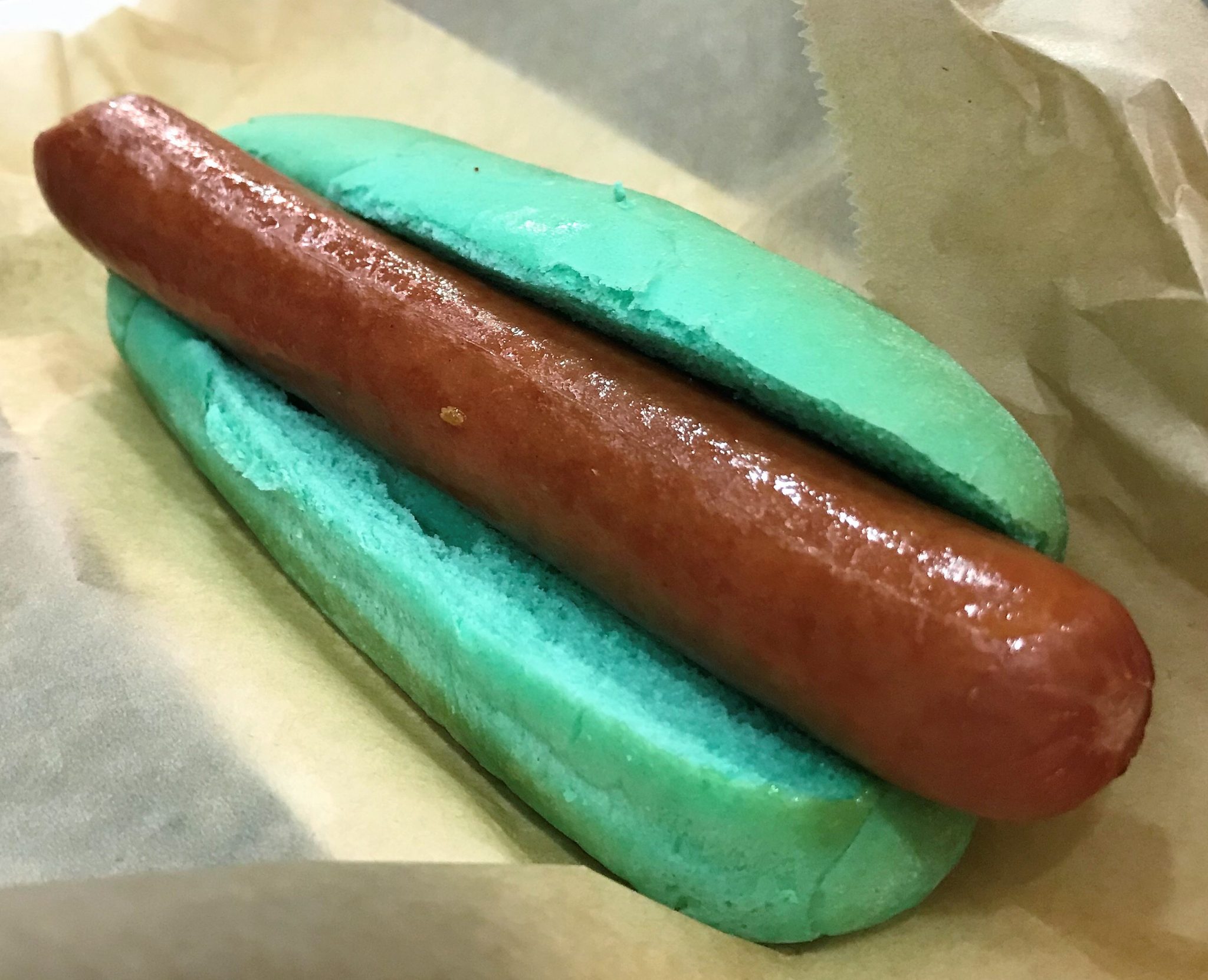 Monster Pizza is the new pizza option on the main concourse. If you've seen the pictures I can only tell you they are bigger in person. We got one and it was essentially the length of my arm. These impressive slices are the equivalent of at least 2 ½ pieces of pizza, probably more like 3. Not bad for $10. They're pretty good. Not the best pizza of my life, but serviceable. It takes two hands to eat the first half of the monster slices. After that you can one hand it. As a bonus they are good for sharing with a significant other or BFF. Basically anyone you would eat after. Monster Pizza is a good and creative choice for serving pizza at the stadium. You can find Monster Pizza on the end of a few of the Stadium Classics concession stands throughout the main concourse.

Corona Taqueria is a new concession stand featuring street tacos. That's pretty much it, though. They're keeping it simple by only offering chicken tacos and steak tacos, both of which come with chips and queso drizzled on top. Each order comes with two tacos with onions, cilantro, cheese, and lime. One of our writers tried the chicken tacos and enjoyed them. The best part to her was the chips and queso, which is something we've seen echoed on social media. This is a white cheese queso that you might associate with a Mexican restaurant. The only way to get the chips and queso is to buy the tacos; they are not sold as a side. If you want nachos you can get standard stadium nachos with gloppy orange cheese, or loaded BBQ nachos located in sections 119 and 131. Corona Taqueria is in the north end zone on the main concourse.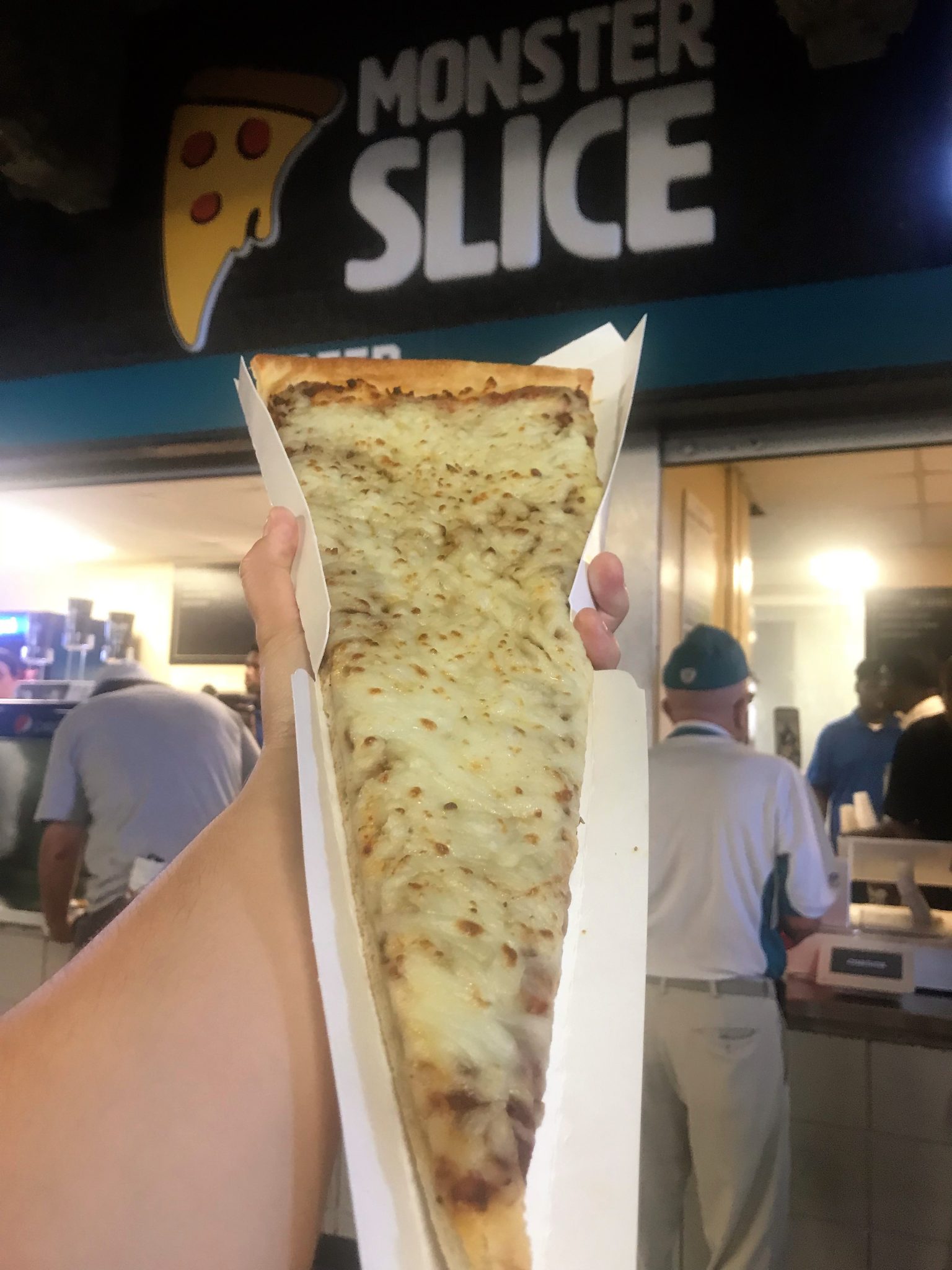 The best new option is unquestionably the jambalaya available in the north end zone. If we ordered this in a restaurant we'd rave about how good it was. The fact that they're serving jambalaya this good in the stadium just blows us away. Make a point to go get some. You'll be glad you did.

This year the Jags instituted Family Friendly snacks which are all $5. These are at Stadium Classics concession stands and include things like popcorn, nachos, pretzels, hot dogs, and fries. This is a good and simple solution for those who don't want to make it rain just by feeding their family. Unfortunately we had a soft pretzel that left a lot to be desired. Super Pretzel brand soft pretzels come frozen and need to be heated up or baked in some fashion. The one we had was warm, but the outside and the inside had the same consistency. It was just more or less warm bread. It didn't have the chewiness you associate with a soft pretzel. My assumption was that it had been thawed, not really baked.

In all the years we've been going to games, the most consistent and delicious food has been at the Dick's Wings stands in the south endzone and the Bud Light Zone. They serve wings and burgers with waffle fries and it's always reliable. If you don't want to gamble with food service, Dick's is the place for you.

In the clubs there are a number of new options. Congaree and Penn has a presence, along with a mac n cheese stand, plus some of the familiar stands from previous years like Melt grilled cheese, burrito bowls, made to order salads, sushi, and the like.

The mac n cheese stand offers loaded mac bowls with your choice of shredded buffalo chicken or shredded pork, and toppings of bread crumbs, cheese, green onions, and bacon. We've had the mac bowls at least three times in the last five games and truly it is the tastiest dish in all of the stadium. The cheesy mac base is absolutely delicious with cavatappi noodles and creamy cheese. The portion of both mac and meat is generous. At $11 this isn't cheap, but it does feel like a good value for a stadium meal. Did we mention how tasty it is?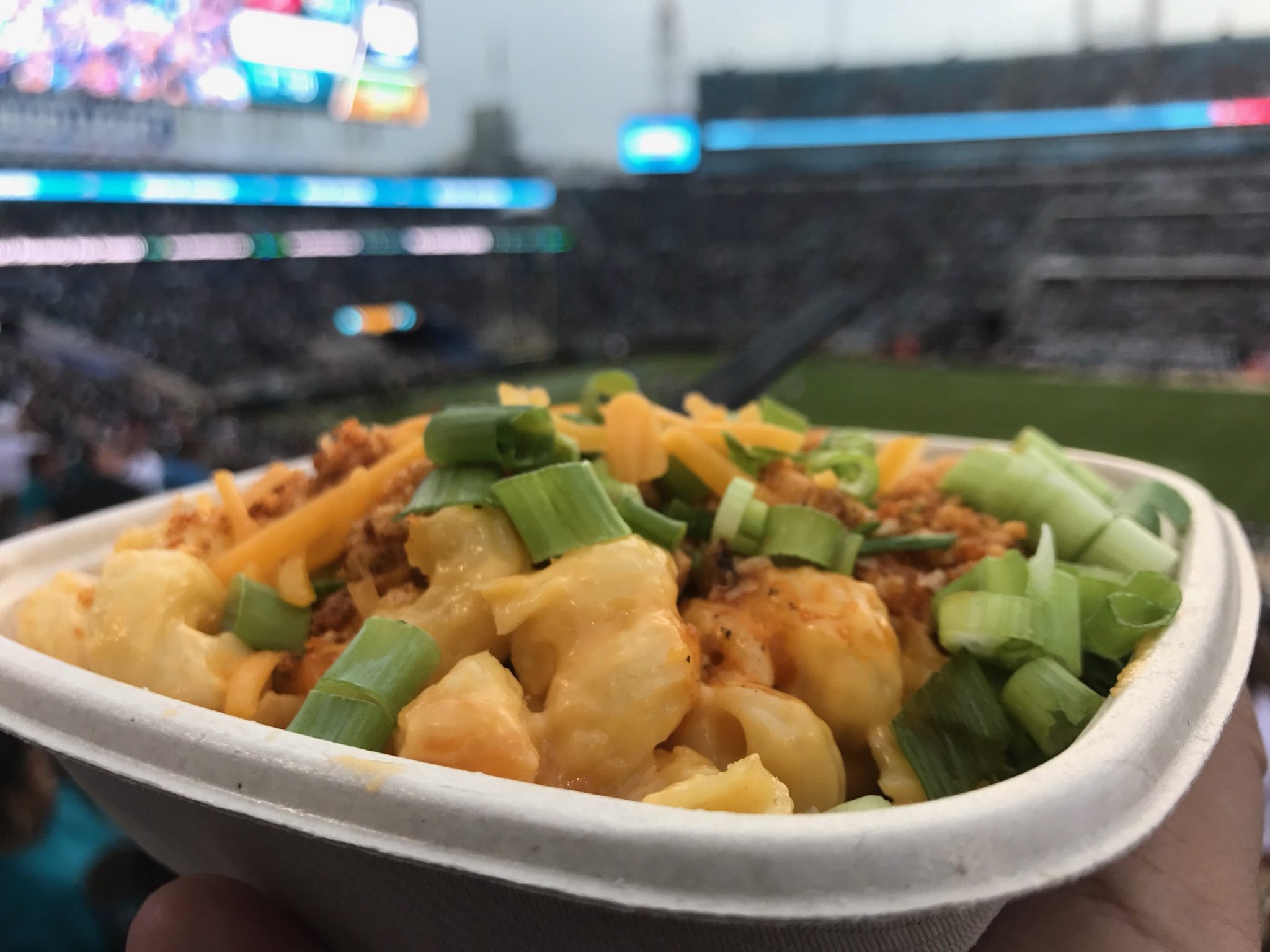 Even though the sushi stand isn't new in the clubs, it deserves a visit. At $16 and $18 per roll, this is definitely stadium sushi, but it is tasty and fresh. There are two to three rolls to choose from and they are without question some of the best in town. Jaguars executive chef Sean Kinoshita came to the team from Tao Restaurant in Las Vegas and it shows in the quality of the sushi. If you can stomach the price your stomach will be very happy.

Here's where I lodge my big (okay, not so big, just annoying) complaint. Why is it that I can only get unsalted french fries from the concession stand and there's no salt available? For goodness sakes, either salt the fries or make salt available. I stopped buying fries after the preseason for this reason. Also, can we get someone assigned to make sure the ketchup dispensers get refilled. They shouldn't be out before kickoff like they were week one. That's just annoying. These are minor things but they matter.

So that's a wrap! The food service has definitely improved over last year. No more corndogs that looked stepped on and generally less chaos in trying to order. We are starting to see real progress in the variety of food on offer. The variety in price points is very much appreciated, and some of the newer additions have taken off nicely. It seems like Delaware North has started to get their feet under them. We truly hope this is the foundation for the quality on gameday to keep improving.