The combination of Hurricane Irma and Hurricane Maria have left the U.S. Virgin Islands and Puerto Rico, both U.S. territories, in dire conditions. While Category 3 level flooding from Hurricane Irma destroyed pockets of homes and businesses along the First Coast, our emergency services, hospitals, highways, airport, and seaport remained steadfast, welcoming help and supplies from all over. USVI and Puerto Rico weren't so lucky. Hospitals were decimated. People who were critically ill before the hurricanes came through were suddenly exposed to the elements, with fuel running low to keep life sustaining machines humming. Surrounded by water and relying on airports, air strips were damaged and it took days for them to open. Flooding, the most dangerous aspect of hurricanes, came swiftly after a dam broke in Puerto Rico days following Hurricane Maria. The island of Tortola, we are told, was a total loss.
Many people across the First Coast have ties to USVI, Puerto Rico, and other Caribbean Islands. Some have reached their families and have confirmation they are at least alive. Others are still waiting, over a week after the last hurricane punched its way through, to make any contact with loved ones. These are tense days, filled with worry and tears for many Americans both here and on the islands.
What can you do to lend a hand and relieve the suffering of our neighbors and fellow Americans in the Caribbean? I'm glad you asked. We saw our community come together to help with hurricane cleanup after Irma, and we are seeing our community once again go to work to get emergency supplies to the Virgin Islands and Puerto Rico.
On Saturday, the Virgin Islands Caribbean Association of Jacksonville is holding a fundraiser and supply drive at O'Reilly Auto Parts on 103rd Street and Ricker Road from 11am-4pm. They will be selling fresh cooked food- Johnny Cakes and pates for $1-$4, and plates with choices of fry fish, fry chicken, fish sandwich, curry chicken, peas and rice, plantains, mac n cheese, and more for $10-$15. They will also be collecting supplies for the Virgin Islands.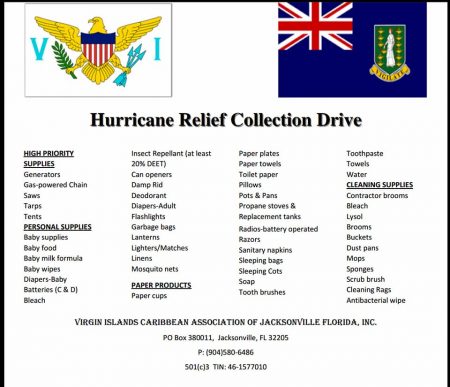 On Sunday the Puerto Rican and Hispanic Chamber of Commerce is collecting supplies downtown at the Landing for Puerto Rico hurricane relief efforts from 11am-6pm.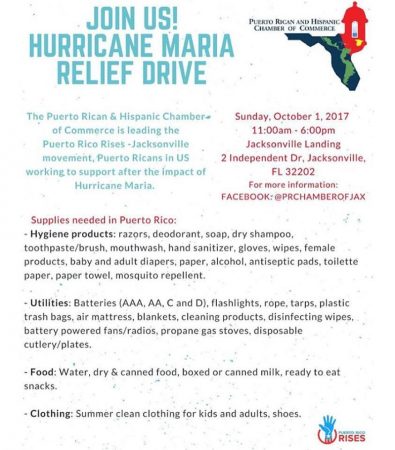 Local ongoing efforts include:
-Collections for Virgin Islands and Bahamas at Adventures in God's Creation, 115 1st Ave N Jax Beach. Deliver any supplies during business hours and evenings, including weekends. AiGC has connections with pilots who are flying supplies over. They are also accepting donations to offset the cost of fuel.
-A benefit dinner at Jax Diner on October 2nd to support relief efforts in the Caribbean. This family style Caribbean dinner is sure to impress just like all of Chef Sweet Pete's family dinners. Not only is Jax Diner a great local place to support, but this is an opportunity to support local and give to our neighbors. See more at the Facebook event or reserve a seat by calling (904)-739-7070.
-The Jax Food Truck Food Court is hosting a Party For Puerto Rico Food Truck Takeover on Saturday, October 7 from 11am-4pm in front of Academy Sports on Atlantic & Kernan. The Food Truck Takeover will serve as a drop off point for supplies to be sent to Puerto Rico, with monetary donations being accepted as well. 15 food trucks will be there, so you can do good and eat good.
-Local restaurant El Taino at 4347 University Blvd is collecting supplies for Puerto Rico. The owner of El Taino has family in Puerto Rico.
-El Palermo Restaurant in Orange Park is collecting supplies for Puerto Rico hurricane relief, making it easy for folks who can't get downtown to do their part.
If you would like to give financially there are myriad options:
Virgin Islands Relief Fund, Inc.
21 US Virgin Islands Relief Fund– founded by USVI native and NBA player Tim Duncan
Somos Una Voz is a relief fund created by Mark Anthony and Jennifer Lopez, with help from a long list of other performers and celebrities including Pitbull, Alex Rodriguez, Ed Sheeran, Lin-Manuel Miranda, Edward Norton, Vin Diesel, Bruno Mars, and dozens of others to provide relief to Puerto Rico.
Together Rising is a non-profit with 100% volunteer staff and board so every penny goes to support people and causes. Together Rising works to support organizations already on the ground in humanitarian crisis by providing items needed in abundance to the experts on the ground doing the work. If you would like to give to Together Rising's hurricane relief efforts you can do so here. 
Island Dog is an animal rescue in Puerto Rico, also in need of supplies. You can send antibiotics, heartworm meds, flea/tick prevention, and gift cards to Petco, Petsmart, and Walmart to Island Dog Inc. PO Box 1669 Fajardo, PR 00738-1669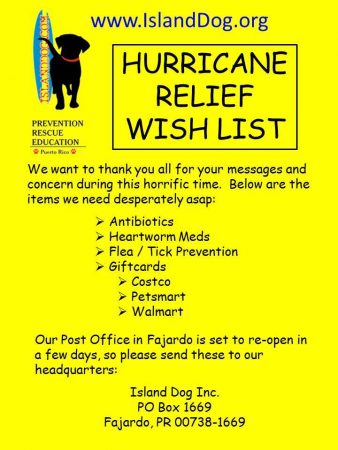 All those extra jugs of water, flashlights, batteries, canned goods, chargers, handheld fans, tarps, and bug spray you bought for your own hurricane kit can go to help people who lost everything. We have the power to relieve the suffering of many people. Our unused supplies passed along to USVI and Puerto Rico bring a message that we care, that we may be divided by water, but we will not be apathetic. If you are in a position to go crazy and buy additional supplies from the lists provided, do it. Everything helps, every donation matters. We can blow away expectations for all of these drives.