Don't be afraid to ring the bell — Buchner's Bierhalle is ready to fulfill your 1920's speakeasy fantasy. 
Located in the back of Blackhat Vapor Company in Murray Hill, you might just pass it if you aren't sure what you're looking for – I almost did! What you have to do is head to the back of the storefront and push open a heavy black curtain and that's where you'll find Buchner's Bierhalle, a cozy space with ornate woodwork, exposed brick, and intricately detailed wallpaper. I think the actual bar says a lot about a place and Buchner's doesn't disappoint. What's impressive is the owner, Jason Grimes made the bar himself. It's a magical piece of handcrafted, art deco work and brought me joy to think I'd sit there. 
As you can probably tell from its name, this place is all German. In fact, the whole concept was inspired by Grimes' grandparents who owned a restaurant in Germany in the 20's. 
Buchner's also doesn't disappoint when it comes to its offerings. It has 3 menus —Wein, Bier, and Speisekarte (food) each with a wide selection. Both the beir and wein menu mention country of origin and have options that range from tap to can. The beer features a variety of German styles like Kolsch and pilsners and some non-German styles in their "smuggled selections." The Speisekarte (food menu) has some fun treats to munch on and is shockingly affordable.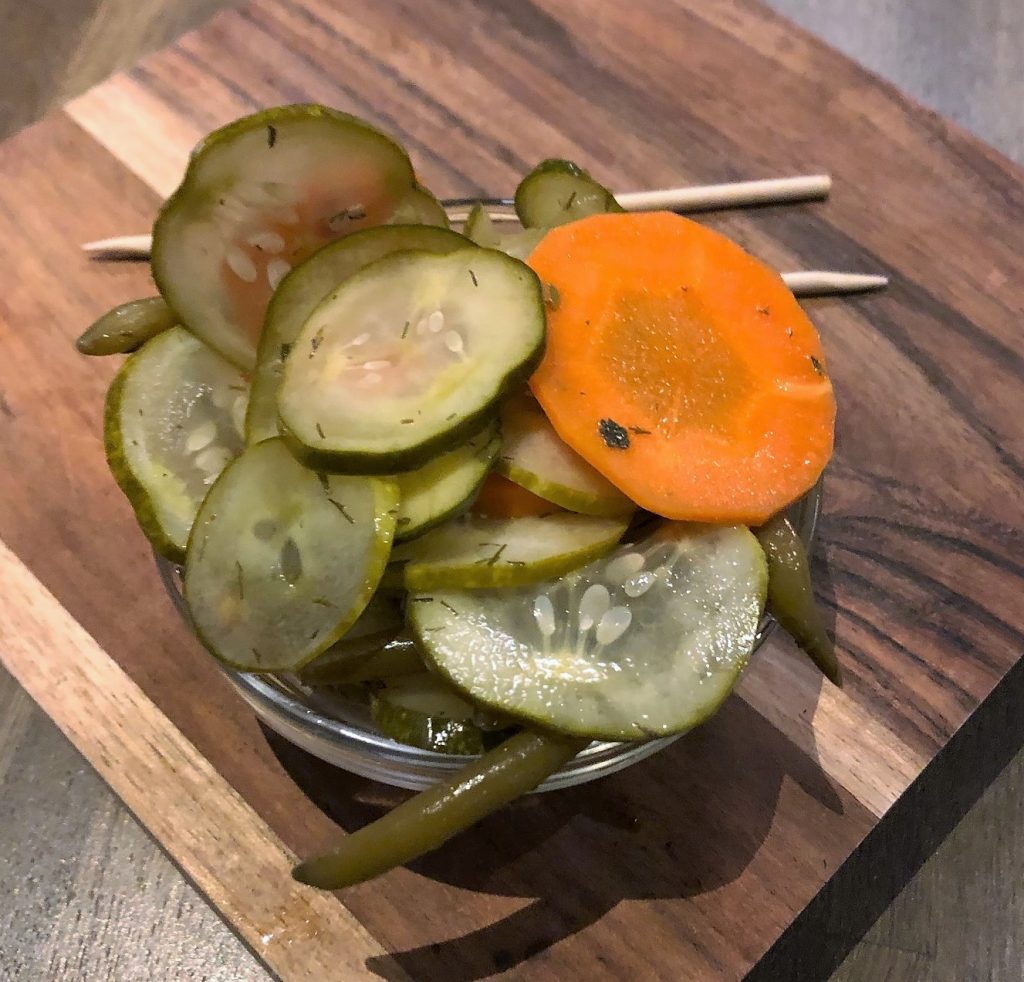 I'm a firm believer that light bar snacks are always nice when enjoying an alcoholic beverage. The Farm Pickles ($4.00) on Buchner's menu was a hearty mix of carrots, cucumbers, okra, and green beans. The veggies were not quick-pickle crisp, but definitely not mushy. The house pickling juice was almost overpoweringly vinegar-y, but had a nice mix of spices. More snacks were necessary when we saw the selection of the Mad King Ludwig meat board ($18). The platter has herbed braunschweiger (almost like bologna), salchichita (like a salami), chicken and vegetable sausage (more like a pate), salami, prosciutto, chilled bavarian brats accompanied by toasted bread and grainy mustard. The prosciutto was sliced into thin sheets and at a temperature where the fat simply melted in your mouth. 
They also have traditional entrees on the menu like a Knackwurst ($7 sausage on a hard roll) and Buchner's Reuben ($7). Chef Nicholas Benedict, who created the German-inspired menu, recommended the Currywürst to our table. It's two full, sliced wursts drenched in a spicy, curry ketchup concoction. On any entree, you can add housemade kraut and German potato salat (potato salad with a vinegar base) for an additional $2.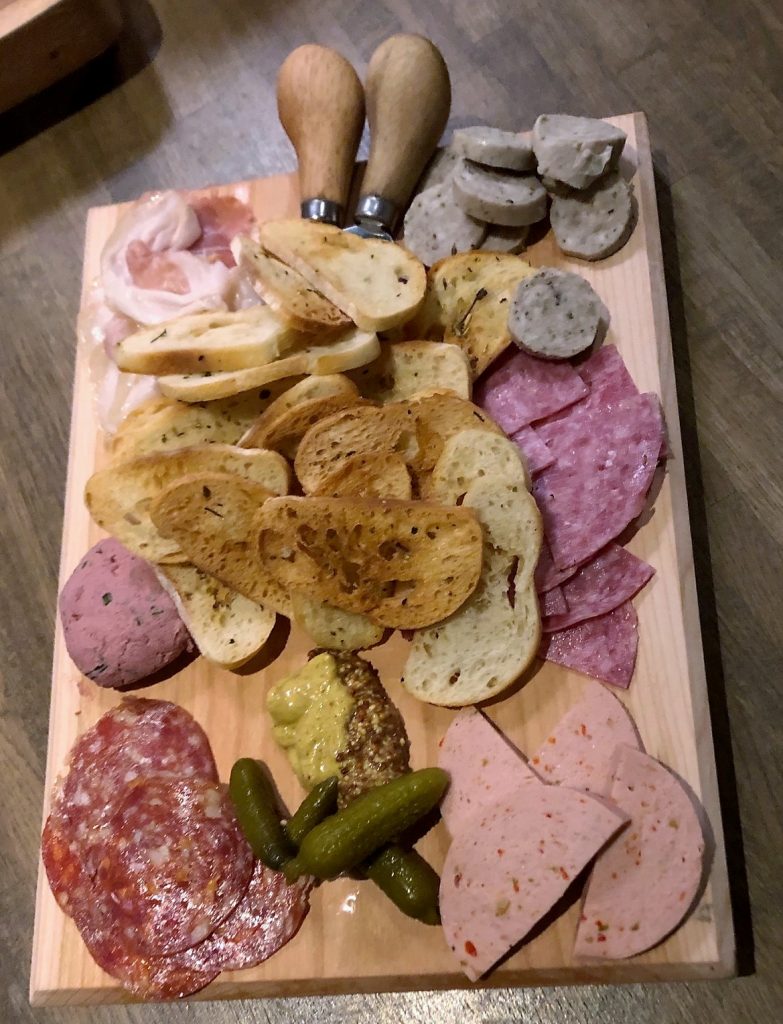 There are a lot of strong flavors on this menu, especially vinegar tang — all of which pair well with a pint of good German beer. My eyes couldn't help but gravitate towards the wien menu, which features aperitifs like Underberg and Lustau. Aperitifs are drinks that can be served before or after a meal to tickle the appetite or aid digestion. Some of Buchner's are homemade too, like the Herbal Doktor and the Barenfang. Each is served in a coupe glass for maximum fanciness. Pinkies up, people! 
Blackhat Vapor locks up at 8 pm but that doesn't mean you can't join the party. Follow the directions on the sign and ring the bell to the left of the door handle and someone will come to the door and walk you towards the back. If you're like me and have never been to Blackhat Vapor Company, I'd suggest playing it cool as you gawk at the interior while you head to the back. If you can't nab a seat inside, you can visit the biergarten in the back area. (You can bypass all this and walk through that back door, but live a little!) 
There is both bar and table service available at Buchner's. At times our server was nowhere to be found, but they were excellent when we could get their attention. It is a neighborhood spot to sit and relax. One of our dining companions has a dairy allergy and they were not only willing to accommodate (as there were lots of dairy-free options to choose from) but they were proactive and swapped oil for butter when grilling the bread for the Reuben.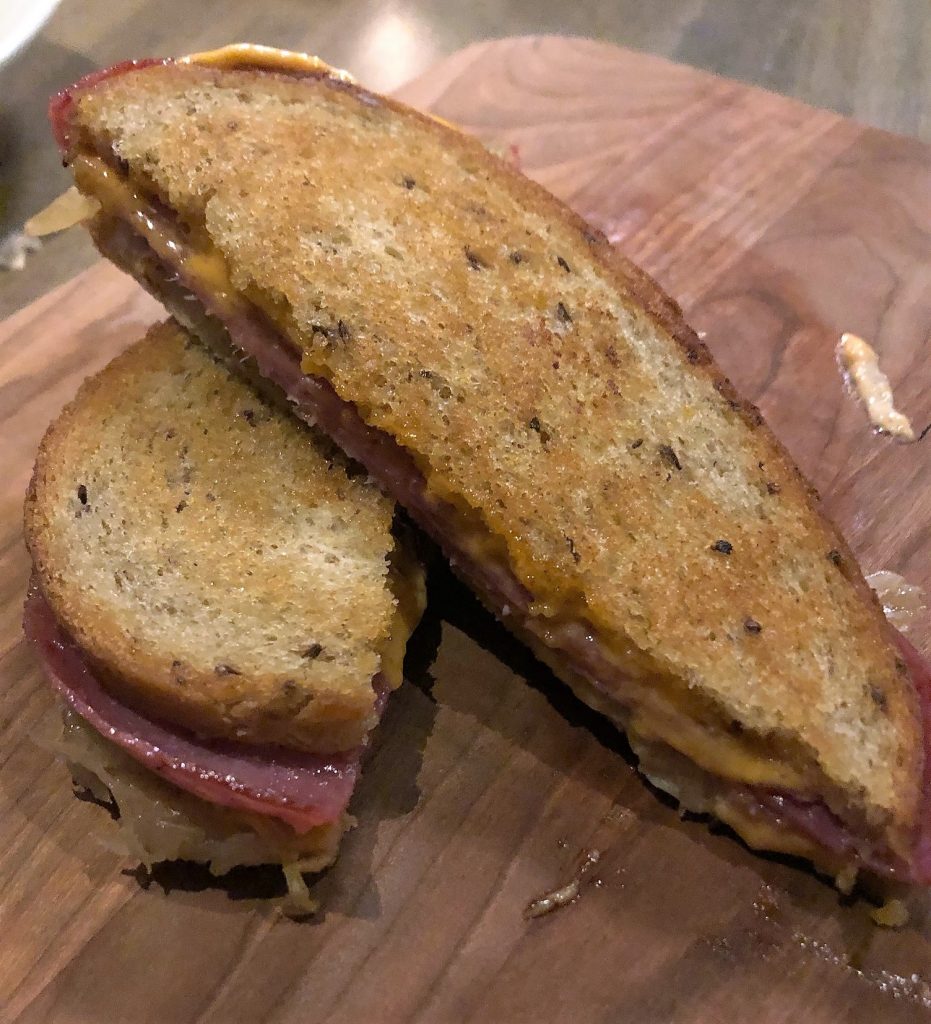 Come visit them most any time, as their hours are fairly expansive. They are open from 4 PM to 2 AM Monday through Friday, 4 PM – 12 PM Saturdays, and noon to midnight on Sundays. Check them out on Wednesday nights, almost every week they have live music. Past band list includes folks like Junco Royals and Backyard Stompers. There would be no better place to celebrate German heritage than with Buchner's Beirhalle. Prost! 
Buchner's Bierhalle
1188 Edgewood Ave S,
Jacksonville, FL 32205