Extreme Food Fights
https://www.facebook.com/extremefoodfights/
If shows like Chopped on Food Network and Top Chef on Bravo are the "UFC" versions of culinary competitions with the glitz, glamour, and fame; then Extreme Food Fights are the seedy, underground fight clubs where local fighters, or in this case, chefs, look to make a name for themselves and put on a good show for nothing more than bragging rights.
Extreme Food Fights is the brainchild of charismatic Chef Amadeus, winner of Food Network's Extreme Chefs: Mexican Showdown in 2011 (season 1, episode 6), so he knows a thing or two about hosting and developing a fun, challenging, and interactive cooking competition. About a year ago (2016), Amadeus was thinking of different ways to create foodie events in Jacksonville not done by others in the past. Internet blogs? Throw a virtual rock in any direction of the internet and you'll hit one. One night only pop-up restaurants? Been there, done that, got the T-shirt.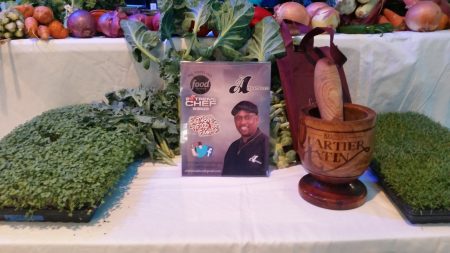 So based on his experience on Food Network, Amadeus created Extreme Food Fights; a monthly local cooking competition pitting local chefs against each other in a single elimination, knock-out style format. Winner stays, loser goes home until only one chef remains. Each month, these "knife fights," if you will, take place at a different location every month. The rules vary slightly from fight to fight, but the concept stays relatively the same: Amadeus brings in wonderful locally sourced ingredients, introduces a mystery protein (also raised locally), and sets a time constraint. The chefs have to use those ingredients in whatever crazy time limit Amadeus decides and create a dish for the judges. The judges eat, offer feedback, deliberate, and then decide which chef moves on to the next round. Meanwhile, spectators can get up close and personal, cheer on their favorites, and see how the pros do it. With a DJ blaring music and the libations flowing freely from the bar, Extreme Food Fights certainly has a party feel. And at the end of the night, it all goes to a good cause. On the night I attended, proceeds from a raffle went to the Boys and Girls Club of Northeast Florida.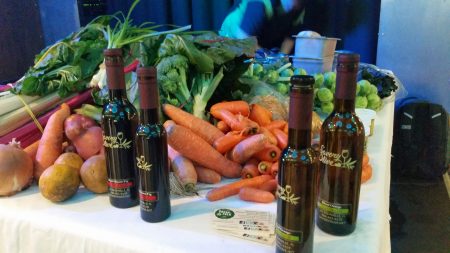 I attended the February 20th, 2017 Extreme Food Fight dubbed "Battle on the Beach." The event was held at Seachasers on Jax Beach. Seachasers was a wonderful host and has one of the best views of the beach from its second floor bar/restaurant area.
The "chef-testants" participating in the night's festivities were:
Chef Jose Salome of 29 South, Fernandina Beach – Defending Extreme Food Fights champ with two consecutive wins
Chef Jocko Petitto of Monkey's Uncle Tavern, Jax Beach
Chef Darrin Ball of Seachasers, Jax Beach
Chef Matty Gilligan of Graffiti Junktion, Jax Beach
Chef Ashley Amin of Fusion Food Truck, Jacksonville
The judges for the event were:
Jax Restaurant Review's own Jerry Watterson
Chef/Catering Director of Soul Food Bistro, Chris Cooper
Chef/Owner of Jax Diner, Roderick "Sweet Pete" Smith
Round 1 featured Chef Darrin vs. Chef Matty. The chefs had nine minutes to make something creative with Amadeus' first mystery protein: Ground Beef. Amadeus wasn't going easy in this first round. While ground beef is a fine protein to use, it's the nine minutes that makes it difficult. Tough to do a meatloaf, or even a decent sized meatball and have it even remotely cooked through in nine minutes. As soon as the clock started, both chefs were chopping and sautéing ingredients like a couple of foodie whirling dervishes. Because of the interaction encouraged in these events, I was thisclose to the action, watching what the chefs were creating. I could feel the drops of olive oil as ingredients were flipped around in the frying pan. At the end of the nine minutes, each chef created two very different dishes. Chef Darrin created an open faced burger topped with a sunny side egg. Chef Matty presented a sautéed kale leaf stuffed with ground beef and vegetables. All three judges had issues with the lack of seasoning on both dishes, but in the end, Chef Darrin won Round 1.
There's no rest for the winner as Round 2 began soon thereafter with Chef Darrin still on the platform defending his spot against Chef Jocko. Ground beef was still the mystery protein, but Amadeus put in new restrictions. The chefs all had to use the same ingredients: brussel sprouts, onions, carrots, olive oil, and balsamic. The chefs were allowed to use other ingredients, but each dish must contain the required ingredients. Amadeus showed mercy and allowed nine minutes and forty-five seconds for this round. Both chefs created a beef patty with a vegetable medley. Chef Darrin's beef patty was a petite bite and Chef Jocko's was a bit larger and sat on a kale leaf. After deliberation, the judges once again chose Chef Darrin to move on to the next round.
Because Chef Jose is the defending champ, the winner of the "undercard" rounds would face him in the finals. It could easily be considered the "main event" of the evening. However, in this, Round 3 would have to be considered "co-main event" status as Chef Darrin would face his toughest competition of the night in Chef Ashley from Fusion Food Truck. Chef Ashley has cooked for the Dalai Lama, the King of Jordan, Denzel Washington, and Woody Harrelson. She was also named Top Indian Chef in San Diego in 2009. For this round, Amadeus introduced a new secret protein: Pork Loin. Amadeus gave the chefs 11 minutes to create a pork medallion dish using oranges, lemongrass, Swiss chard, and his personal line of spices, Southern Passion Spices. Chef Darrin created a pork medallion on a bed of chopped Swiss chard, lemongrass, and other vegetables with a side of toasted crostini. Chef Ashley presented a pork medallion on bed of chopped celery and onions with a large leaf of Swiss chard on the side and a twist of lemon. The judges liked the flavor of both dishes; however Chef Darrin made a fatal mistake of slicing lemongrass and putting it in the dish without the time needed for it to cook to an edible state. The judges remarked that it was like chewing toothpicks. So Chef Darrin, bravely fighting through three rounds, is downed by a stalk of lemongrass. Chef Ashley moves on to the main event.
Round 4 featured 2-time defending Extreme Food Fight champion, Jose Salome against Chef Ashley Amin. This was the final round, winner takes all. Amadeus pulled out all the stops and switched things up by introducing two secret proteins: Blue Crabs and Croaker Fish. Ooohs and aaahs rose from the enamored crowd. Amadeus gave the chefs a generous 15 minutes to create something fantastic. Right from the start, things looked bleak for Chef Ashley as one of her burners wouldn't flame up. It was quickly switched out for a working burner, but she lost precious seconds. Meanwhile Chef Jose was filleting croaker fish like his life depended on it. After 15 minutes of shells and scales flying, both chefs presented a couple of beautiful looking crab and croaker fish dishes. Chef Jose showcased a half-crab and a croaker fish fillet in broth topped with a slaw of carrots and brussel sprouts. Chef Ashley's offering was a whole crab with croaker fish and a garnish of olives, sliced carrots, and micro greens. Both chefs brought their best and it basically came down to nit-picking to decide the winner. Ultimately, time management played a big factor. Chef Jose rushed the cleaning of his crab and one of the judges got some of the crab's intestinal track in his dish. This caused an unexpected bitterness in an otherwise smooth buttery broth. And just like that, Chef Jose's chance to three-peat as Extreme Food Fights champion goes down the chute.
The winner and new Extreme Food Fights champion is Chef Ashley. This win is monumental since this is the first female champion of Extreme Food Fights and only the fourth overall winner in almost a year's worth of food fights. Each overall winner comes back next month to defend the title against a new batch of eager local chefs. So only having four overall winners gives you a sense of the skill level these chefs have honed over the years.
In the end, there are no real "losers" here. The host venue gets a potential crop of future customers, the competing chefs get a chance to "let down their hair" for a bit and get crazy, and the crowd gets a chance to see professional chefs do what they do so well in an intimate way they normally wouldn't get a chance to see. I had a great time cheering on all of the chefs and meeting new people. If you're looking for a unique night out or a fun date, Extreme Food Fights is a memorable time. And if you're a local chef looking to compete, Chef Amadeus would love to have you. You can reach him via email at chefamadeus@gmail.com.
Extreme Food Fights is held monthly. To find out when and where the next event will be held, follow Chef Amadeus on Instagram @chefamadeus or like the Extreme Food Fights page on Facebook at https://www.facebook.com/extremefoodfights/.
Note: From time to time we're invited out to try a restaurant or to taste new menu items.  This meal is usually comped, as this one was.  We're under no obligation to write a positive review or any review at all when we're invited out to try a place.  Every review you see on our site will be an honest review of the place whether or not the restaurant provided us with the meal at their cost.