Ephesus Mediterranean Grill and Pizza
9527 Regency Square Blvd
Jacksonville, FL 32225
904-337-1666
Ephesus was an ancient Greek city on the southwest coast of modern day Turkey. Because of its proximity to both Greece and Turkey, both countries share much of the same cuisine. This shared commonality of flavors show in the menu of Ephesus Grill with Greek standards such as spanikopita and saganaki as well as Turkish favorites like Icli Kotfe.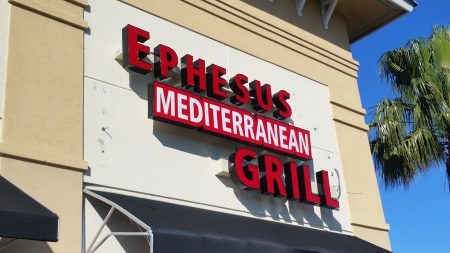 When I walked in, the first thing that hit me was the wonderful smells of cumin, cinnamon, and other spices emanating from the kitchen. It was intoxicating. Our waiter was very friendly and knowledgeable. He presented us with our menus and took our drink order. Ephesus Grill is very much a family-run restaurant as the waiter's young son came by our table to say hello. I thought that was very charming and cute.
The menu is quite large, filled with many traditional dishes as well as pastas and pizzas. With so many dishes to choose from, we asked our waiter, a native of Turkey, what he suggested we try. His response was interesting. Ephesus Grill offers a wide variety of pizzas, calzones, strombolis, and other more American palate friendly dishes. He said this about those dishes, Pizza, you can get that anywhere, right? So I would recommend. . . and then told us a few traditional Turkish/Greek dishes to try. I found his response refreshing and told me a bit about the menu strategy. Come for what you know (pizza), stay for what you don't know (Lahmacun). He had so much faith in the traditional dishes that he recommended them above what he thinks our Westernized taste buds are used to. Plus it helps that we love trying new foods.
I normally wouldn't devote a paragraph to the bread service of a restaurant. There's usually not much to bread. It's meant to keep you satiated until the real food comes to the table. However, the bread service here was so good, it's worth talking about. Its fresh made bread, topped with black and white sesame seeds. It came to the table wonderfully warm, smelled fantastic, and had a pretzel-type texture. The bread had a nice crack to it when pulled apart; the steam and sweet smell wafted upward, permeating all my senses. I closed my eyes and thanked God for giving me this day my daily bread. Famed food author and namesake of the highest culinary award one can earn, James Beard once said, Good bread is the most fundamentally satisfying of all foods; and good bread with fresh butter, the greatest of feasts. This quote never rung truer than when I was eating this bread. It was perfection. I simply couldn't stop eating it. And best of all; free refills. Take advantage of that.
After coming down from my bread high, we decided to start with the octopus appetizer. The octopus is pan fried and topped with oil, vinegar, and dried oregano. The plate looked delicious. The texture of the octopus was tender, not rubbery. The oil and vinegar added a nice acidity. However, it was under seasoned. The octopus was crying, begging for some salt and pepper. The oil, vinegar, and oregano helped, but it wasn't enough to elevate the taste of octopus, which is mild in flavor to begin with. A pinch of salt and pepper and a tablespoon of oil tossed in a bowl with the octopus prior to the pan fry would've gone a long way in taking the octopus to another level.
For my entrée, I decided on the Moussaka with a side of rice. I'm a big fan of Moussaka; both of the dish and the word. Moussaka is dish made with potatoes, eggplant, and ground lamb layered Lasagna-style, and topped with a thick, creamy béchamel sauce. Ephesus Grill's version stuck close to tradition. It was surrounded by a moat of tomato sauce and topped with Parmesan cheese. The portion size was very generous. Each layer of potato, eggplant, and ground lamb was easily identifiable. I've had Moussakas (Moussaki? Moussakusus?) where all the layers melded together in a mushy textured mess. Ephesus Grill's was cooked nicely. The potatoes were al dente and the eggplant was cooked through, but not disintegrated. The ground lamb was seasoned nicely with no hint of gaminess. The béchamel was cooked to a nice golden brown which added a nice nutty flavor to the whole dish. The tomato sauce was a perfect balance of acidity to complement the richness of the Moussaka. Using the wonderful bread to sop up the rest of the tomato sauce was a perfect way to clean the plate.
My dining partner decided to order something called Lahmacun. It was highly recommended by our server. Lahmacun is a traditional Turkish dish. It's a flatbread topped with minced lamb, tomatoes, vegetables, and a variety of herbs and spices. All of the ingredients were minced so fine, it was almost like a spread on the flatbread. And it was a good thing because I've never seen a flatter flatbread. You could almost see through it. There are a few ways you can attack this thing: You could roll it up like a burrito, fold it like a NY slice, or go with the pinch-and-tear method. On the whole, this was a tasty little dish. The spices were definitely the star. I could immediately pick out the notes of cinnamon, cumin, and paprika. There was a little bit of heat on the front end, but nothing overbearing. There are a lot of intense flavors packed onto this thin piece of bread. This is probably a dish best ordered for a table and shared among everyone; at least until this Western palate becomes more accustomed to taking on such a robust and deep flavor profile in one sitting. The server recommended well.
Overall, Ephesus Mediterranean Grill and Pizza is off to a great start. And that's good news because this area of town (Regency/Arlington) seems to be a dining wasteland. There simply aren't a lot of great places to eat. But among this wasteland, Ephesus Grill looks to be a city on a hill, a light in the darkness, and a beacon of wonderful, authentic Mediterranean foodstuffs for hopefully a long time to come.