My favorite aspect of food has always been that it brings people together. Sharing bites, drinks, stories and laughs is one of the best feelings in the world. What better place to try an abundance of small plates, new, fun and delicious libations, all surrounded by neon lights and the hustle and bustle of Asian flare, than the freshly renovated Hawkers in Five Points?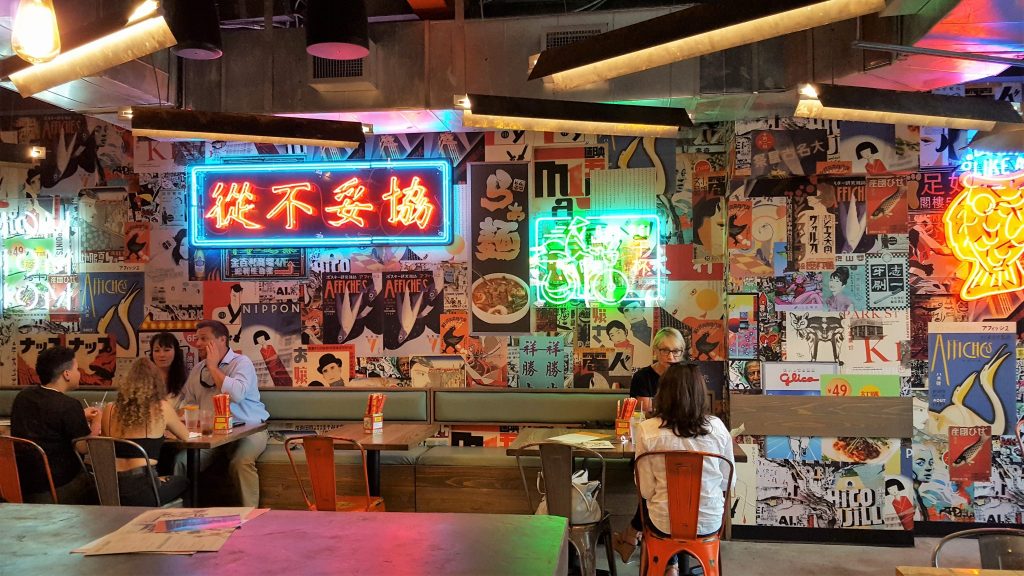 July saw change to the historic strip of Park Street. For about two weeks, Hawkers Asian Street Fare expanded their restaurant and bar, taking over the neighboring building. When you walk into Hawkers you're transported into the fast-paced feel of Southeast Asia. The restaurant expanded, knocking down walls and creating more seating. And thank goodness! There is usually a wait at the door; I have never seen this restaurant empty. The new space is plastered with striking neon signs, billboard-esque advertisement prints and beautiful Asian pictures. Not only did the restaurant become more spacious, but also the bar was transformed into a full service well. The bar is about the same size as I remember just with one important, delightful difference. They now serve liquor. It now offers more than just beer and wine, but some of the swankiest, entertaining, and damn delectable cocktails around.
The new cocktail menu is hip, enticing and sprinkled with Asian ingredients like kimchi, turmeric, lemongrass and five spice. I did find certain ingredients such as pineapple repeated too many times but I'm just being hypercritical. My sister and I ventured and took one for the team by trying 6 out of the 12 new Specialty Cocktails. Talk about a great way to spend an afternoon. There is a heavy nostalgic pop culture influence with fun drink names like "Gangsta's Pearadise" and "I Got 5 On It". Each drink was thoughtfully created to showcase something spicy, sophisticated, or a twist on some classics.
Most drinks on the menu have a little bit of a kick but can be adjusted by the talented bartenders. It's great for patrons with an adventurous palate that appreciate heat and refined flavor combinations. Our first drink was one of our favorites. The Margari-Thai ($10) is a spicy twist on the Margarita (obviously). They take it up a notch on the Scoville scale with a Thai-Chili simple syrup. I found it to be mild and perfectly balanced with Milagro Tequila and cooled down with coconut water. My sister found it spicier, but I love heat so my tolerance is higher. Either way, it was unanimously our second favorite cocktail we tried. The second drink had my favorite name, Tiki, Do You Love Me ($10). This Tiki drink just dips its toe into the spicy side. It wasn't as sweet as we were expecting, with a heavy hand on pineapple by ways of pineapple infused rum and pineapple shrub. Honestly, we couldn't taste much else even with serrano-infused agave. There was a nice floral whiff from the garnish of a raw serrano, pineapple and orange…it did however make it cumbersome to drink without a straw. Although this drink is nice and easy to sip, other than the name, nothing really jumps out when compared to the rest of the menu.
Next up are the drinks that make you feel fancy! Gangsta's Pearadise ($11) was my sister's favorite. Served in a swanky coupe (thinks Great Gatsby) garnished with a pear slice, this pear cognac drink definitely makes you feel like an adult. It has a clean, crisp fruity taste that's not sweet at all; heavier on the liquor side, but not unsippable. The ginger beer and pear are equally balanced; this cocktail is a PEARfect way to end your night. The other drink that made us feel like we had our lives together was the Bull In A China Shop ($10). This Tito's vodka drink marries chamomile tea, agave, honey-lemon ginger, and mint. Extremely effortless to drink, you'll think you're sipping a sweet tea. Poured in a martini glass and garnished with fresh mint, it's one of those dangerous liquor combinations that can sneak up on you. This was also one of my sister's favorite drinks, but I found it on the sweeter side for me. I'm more of a whisky girl.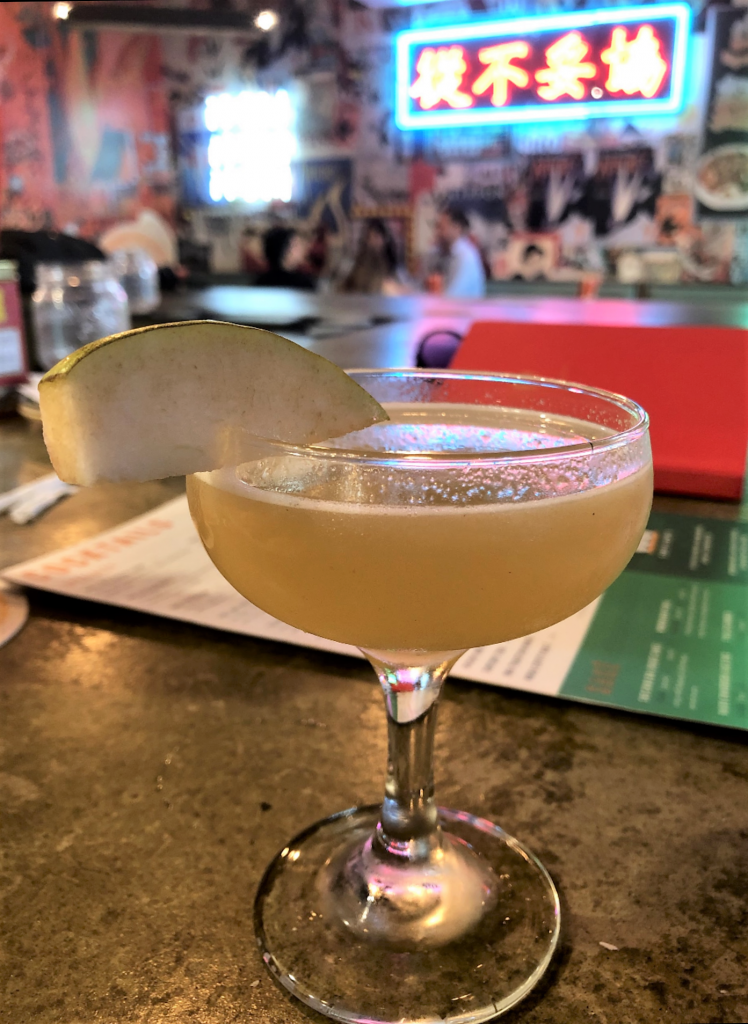 Speaking of whiskey, my favorite drink was a twist on a classic. I Got 5 On It ($10) is an Old Fashion elevated; Suntory Whisky, Angostura, orange bitters, Five-Spice simple syrup, with a cherry and orange twist. Let's start with the whisky. Hawkers' has an illustrious offering of Japanese Whisky on the menu. More similar to scotch, you can try these Japanese whisky in two different flights! (I'm coming back just for this). What makes this drink my favorite was the layers of flavor. I was impressed it wasn't too sweet or too liquor strong. It was smooth with no burn like some whisky leaves you feeling. There was complexity from the Suntory and Five-Spice, but familiarity from the Angostura and bitters, making it interesting yet easy to drink. I was most looking forward to this drink and it did not disappoint me in the slightest.
Another twist on a classic with a kitschy appeal was the That's My Bag, Baby ($10). This is where my sister and I diverge in opinion. I LOVED this drink. It's a glorified mojito with lemongrass. They didn't reinvent the wheel with this one, but there's one fun difference-it's served in a bag with a colorful straw. Think adult Capri Sun. Yeah, ok fine, it's totally instagramable next to the "NOM NOM NOM" neon sign behind you but isn't that the excitement about it?! The drink itself is sweeter with rum, mint, simple syrup, lime and soda. I found myself unable to stop sipping it. I don't know if it was the presentation or the fun colorful atmosphere, but this drink made me feel like a kid again, and isn't that what life is about?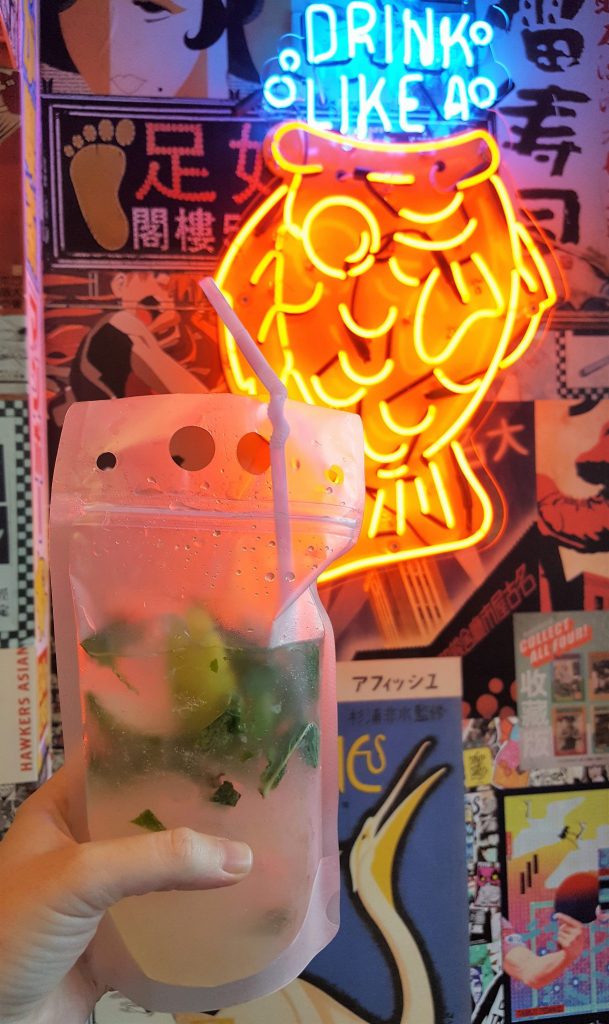 Hawkers' was already an established restaurant perfect for meeting friends and loved ones to share a bite with. Now it has a new and improved full-service liquor bar that creates some of the most inventive, entertaining and tasty cocktails around. Make sure to swing in for happy hour (M-F 3pm-5pm and late-night Sun-Thur 9pm-Close) where some of the Select Craft Cocktails are only $6.     
Hawkers Asian Street Fare
Five Points
1001 Park St
Jacksonville, FL 32204