Whether you have fond memories of wine tasting through France, or just appreciate when a good bottle comes your way, wine lovers are in for a treat with the Orsay, Black Sheep, & Friends Inaugural Wine Festival.

The festival consists of five events over three days at local restaurants Orsay, Black Sheep, and Bellwether, celebrating all things wine and food. There is a winemaker dinner, a wine seminar, a rooftop champagne soiree, plus tastings and a silent auction. Proceeds from the festival will go to Feeding Northeast Florida and the Merendino Foundation. The festival is this weekend, February 22-24, with tickets still available for every event except the Winemaker Dinner on Friday evening.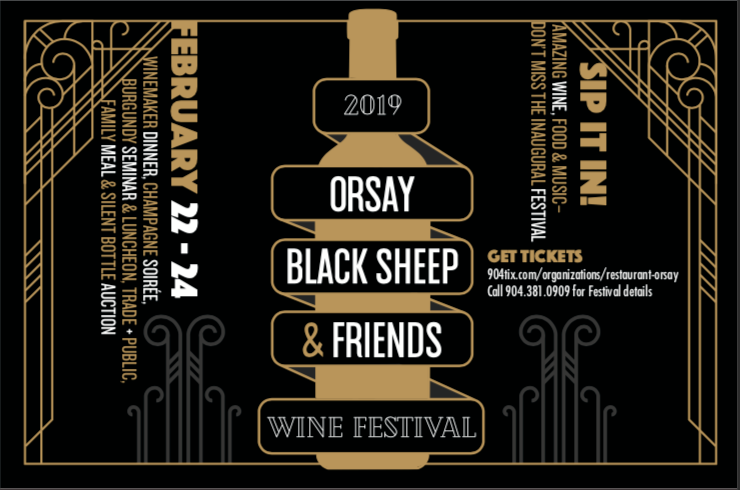 Maybe it's because I'm an educator at heart, but one of the most interesting aspects of the wine festival looks to be the Burgundy Seminar with Jonathon Ramsey of Augustan Wine Imports. Learn about wine from the Burgundy region from eastern France, enjoy lunch, and of course Burgundy wine. There is also a Champagne Soiree on the rooftop at Black Sheep featuring delicious eats paired with sensational champagne plus jazz music.

The inaugural Orsay, Black Sheep, & Friends Wine Festival looks to be an indulgent weekend for the wine enthusiasts among us. Hats off to the local restaurant group for bringing something so fun to Jax!
View each event and get tickets at 904tix.com.