Welcome to Jax Beer Week by Jax Beer Society!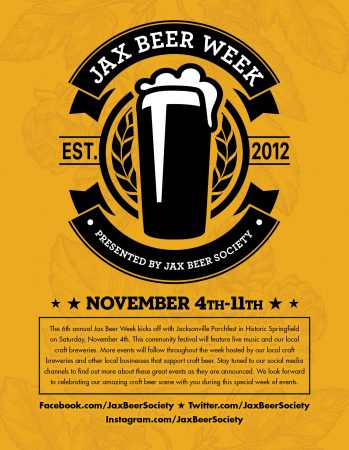 As the local craft beer scene has grown, so has the Jax Beer Society, which is why they have set aside this one special week to partner with local breweries and celebrate all things craft beer. Jax Beer Week runs Saturday-Saturday, November 4-11, and kicks off with Porch Fest in Springfield. During Jax Beer Week you can find beer specials and beer dinners at breweries throughout Duval. There are literally too many to list in one article, but some of the things you can look forward to are special tappings, pilot batches, food trucks, competitions, and even a blind beer tasting!
Here is a handy calendar from Jax Beer Society, plus JBS will be posting daily updates on their event page throughout Jax Beer Week.
Check it out and cruise on over to your favorite brewery to celebrate our great craft beer scene!
Event page:  facebook.com/jaxbeerweek/events
Jax Beer Society Beer Week Calendar: jaxbeersociety.com/calendar/ 
If you have any questions reach out to jaxbeersociety(at)gmail(dot)com
Here are a few Jax Beer Week schedules for specific breweries: