Atlantic Beach BBQ is the newest BBQ hot spot in town. Set in a new construction building right on Atlantic Blvd in Atlantic Beach, this family friendly casual BBQ joint has nearly everyone's attention.
When you arrive, there may or may not be parking available. That is annoying, but there is complimentary valet. Just get a couple bucks change while you're inside so you can tip on your way out. The building itself is cavernous, with high ceilings, huge windows, and tons of seating. One end of the restaurant has a bar and TVs while the other end has booths and tables. Additionally there is an outdoor area with green space for yard games and for the kiddos to blow off some energy.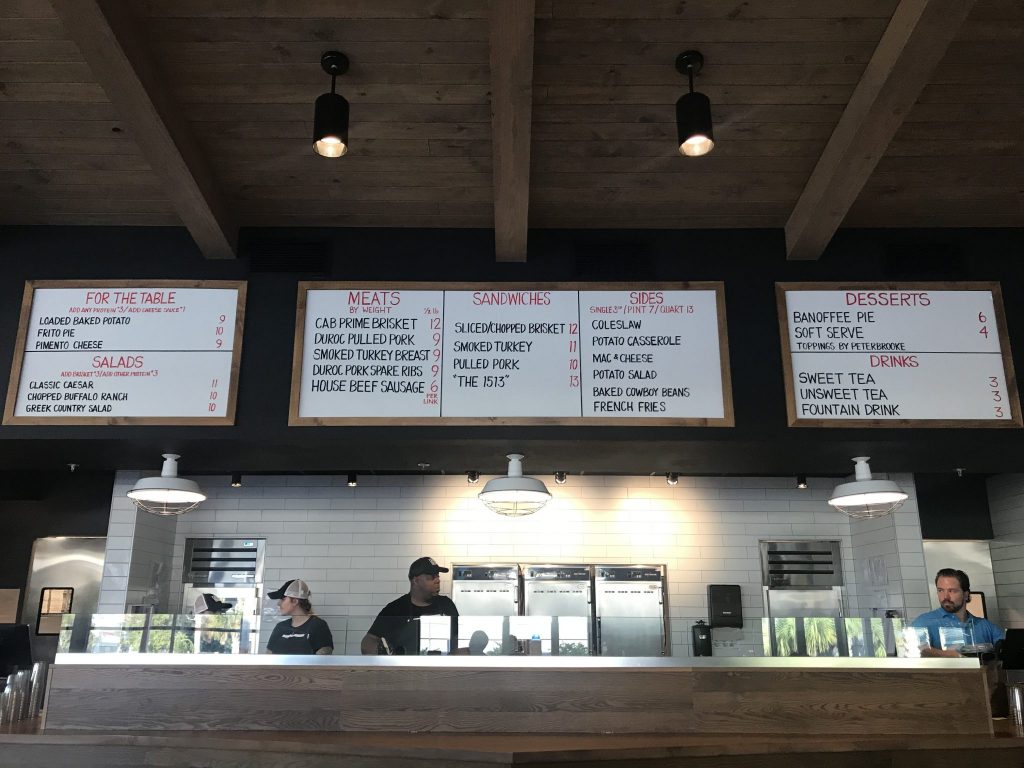 At ABBQ you order a la carte at the counter. The menu lists meats by the half pound, but you can order any amount- a quarter pound, or even just a single slice of something. The sides are shareable for 2-3 people, so it's a good idea to consult with your dining companions on those.
On our visit we had 4 meats and 4 sides between two people. We took at least half of it home, if that gives you any indication of how much you should order. We had brisket, pulled pork, smoked turkey, and one sausage link, plus potato casserole, mac n cheese, baked cowboy beans, and fries.
The brisket was very nice, with a big strip of fat up the center and a lovely smoke ring around the outside. The pulled pork was nice and smoky and moist. The sausage was fantastic, and one for sausage lovers to make sure to try. One link was plenty of meat, so if you want to try multiple meats getting one link and a slice or two of something else is the way to go. Let's be honest, turkey is basically the Weight Watchers bbq meat. It tends to be dry and tasteless. Not at ABBQ. This turkey was juicy and tender, and you could taste the seasonings in each bite. If you don't care for turkey, don't order it. But if you are looking for a leaner meal or you just enjoy turkey, ABBQ does an excellent job.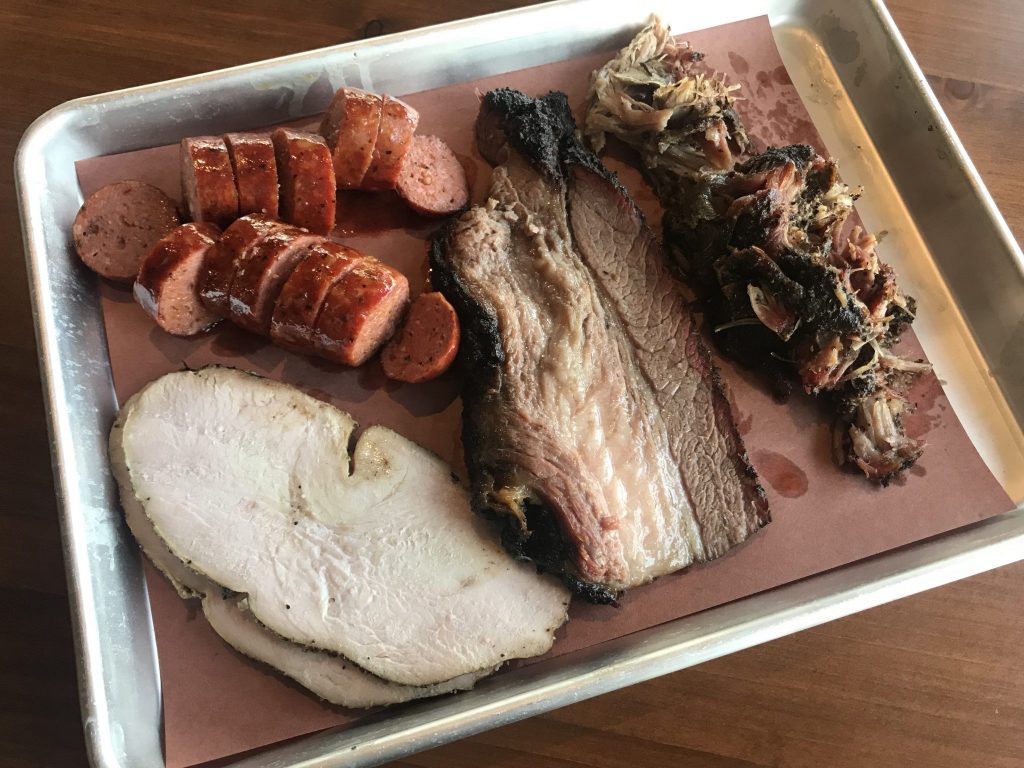 Of our sides the potato casserole was the clear favorite. It tastes like a church potluck, but better. Shredded potatoes are baked in a creamy, cheesy sauce with a little help from onions. We would get the potato casserole again and again. The mac n cheese was nice and creamy. This is a baked mac for those with strong mac opinions. The baked cowboy beans were topped with shredded cheese, which was an interesting choice. These aren't your average baked beans. The beans themselves are a little bigger than typical puny baked beans. Overall the baked cowboy beans had a tangy flavor to them that we didn't love, but we didn't hate either. They were just okay for us. We ordered the french fries when saw an order come out of the kitchen as we placed our order. They were big and fat, and looked to be crispy on the outside while retaining that pillow-y soft potato on the inside. Much to our delight, that is exactly what we found when we got our fries. They were also lightly battered, which gave them tons of flavor.
The last thing to discuss about the offerings at ABBQ are the sauces. All sauces are housemade, which is a nice touch. ABBQ offers mustard sauce, vinegar sauce, tangy sauce, and what they call Carolina Combo. The Carolina Combo is going to be the sweeter of the sauces, with the tangy sauce having a little less sweetness and more bite to it. We enjoyed both the tangy and Carolina Combo the most, but your experience will depend on your sauce preferences.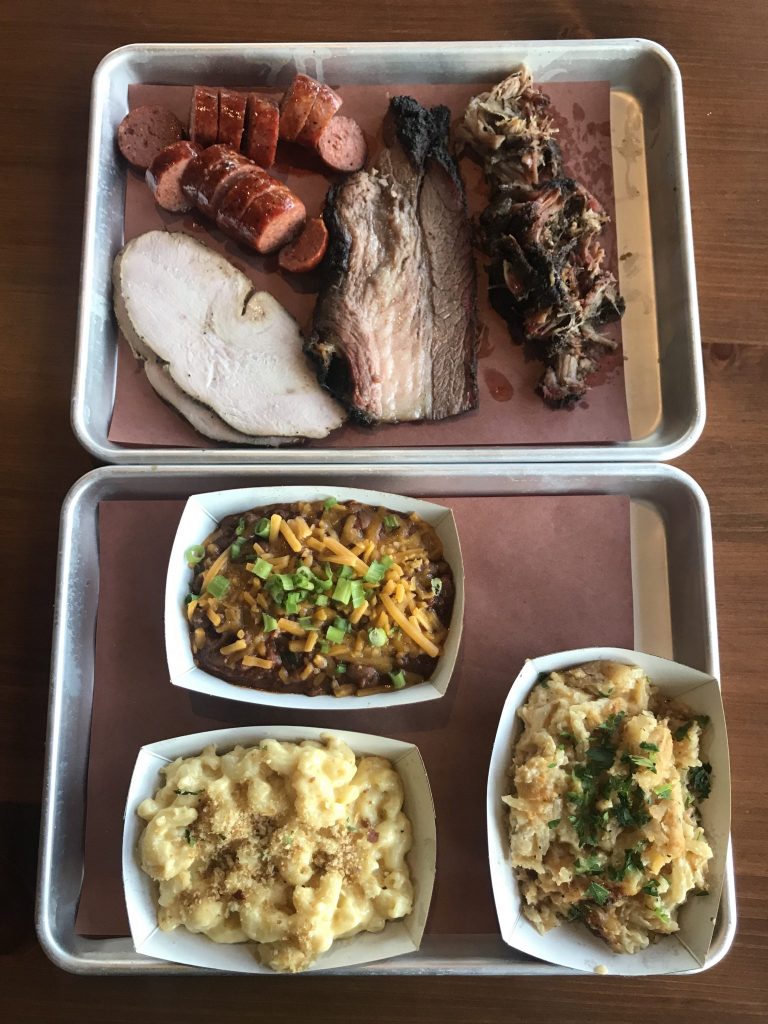 While ABBQ is a fast casual restaurant where guests order at the counter, we noticed no shortage of staff or service. There was a hostess to direct folks to menus and ordering, and several folks delivering food, refilling drinks, and generally checking on guests.
The sheer size of ABBQ is a factor when discussing consistency in a restaurant, but our experience was fantastic, and the diners near us seemed pretty pleased as well. We are looking forward to going back to try the Frito Pie and Pimento Cheese. 
ABBQ
461 Atlantic Blvd
Atlantic Beach, FL 32233