Jacksonville is full of Japanese Steakhouses. Most of them are mediocre. Some are bad. A handful are very good. On today's restaurant visit we found one of the good ones. Sumo Japanese Steak House is located on SR210 between Nease and Bartram trail high schools. When you walk into Sumo the first thing you notice is how clean they keep the place. The restaurant has a nice upscale look and feel to it. Sumo offers a wide array of sushi options in addition to all of the standard teppanyaki/hibachi offerings you'd expect from a Japanese Steakhouse. When you walk into the restaurant the sushi bar is straight ahead and the rest of the restaurant is split into two sections. One section is for dinners who'd prefer to order items from the kitchen and sushi bar and the other is for the hibachi grills where you can dine with the chef's cooking at the table right in front of you.
We walked into the restaurant and were promptly seated at a hibachi grill table. The owner who is an acquaintance of mine invited us out for this visit so he came over and chatted with us for a bit as we got started eating. We started off with the standard pre-hibachi warm-up of soup and salad. At Sumo they give you a choice of clear soup or miso soup. We ordered one of each so we could try both. They were both enjoyable and exactly what you'd expect.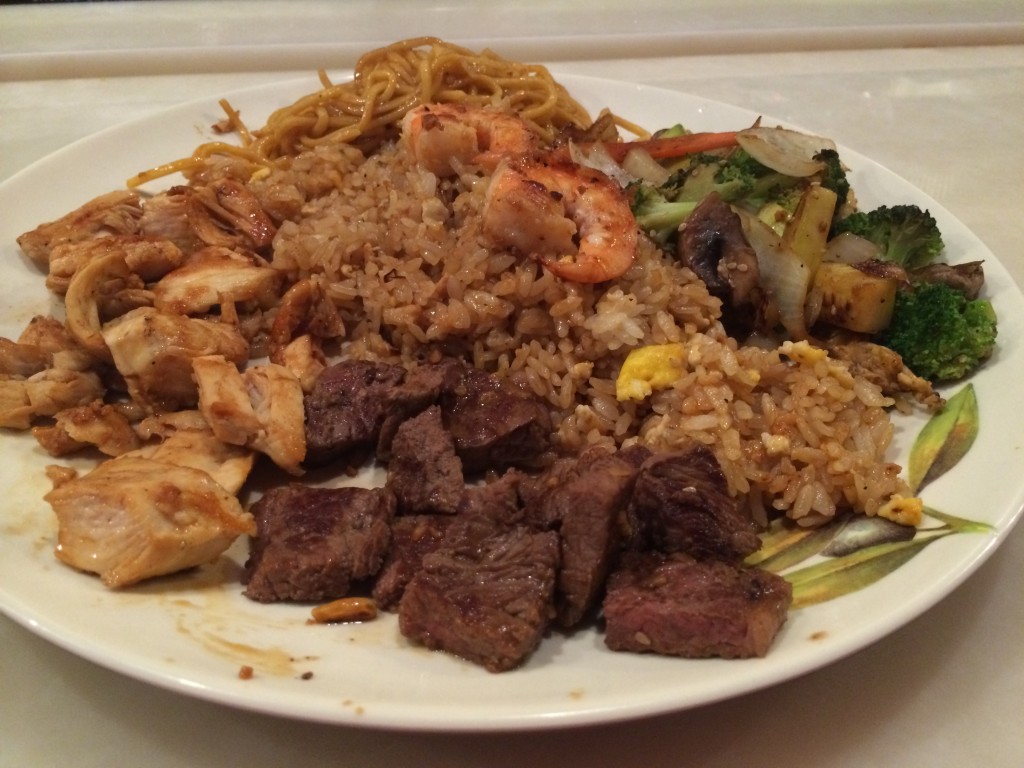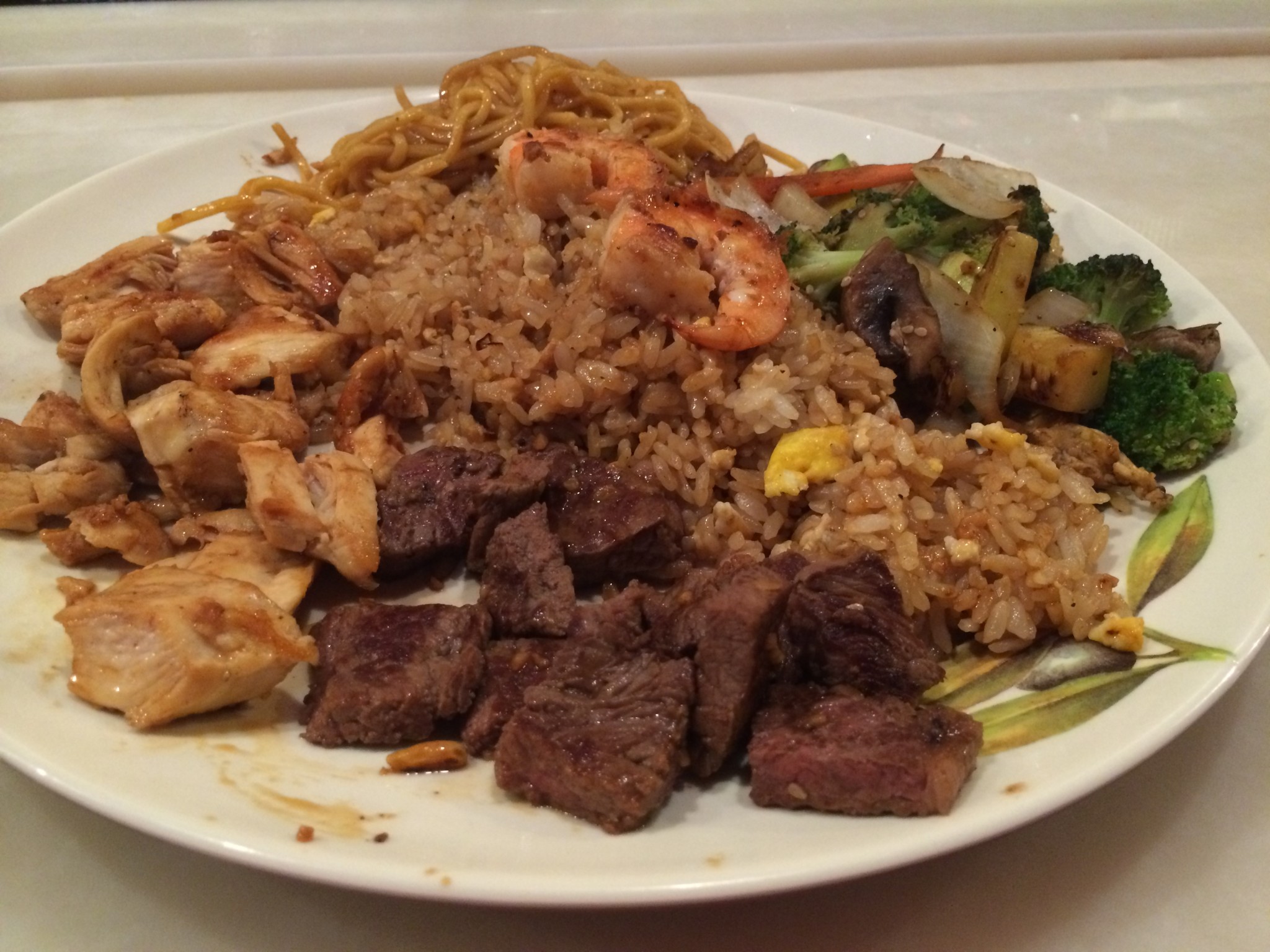 As we started to eat our soup and salad we went ahead and ordered some sushi and sashimi.  Rather than order specific rolls we let the owner surprise us with a couple rolls and some sashimi. I had heard Sumo's sushi rolls were really big. I had heard right! They're really big and full of a generous amount of fish and other seafood. People always tell me I've got a big mouth but I'm not sure it was big enough to handle the size of the Sumo sushi roll. I suspect that's not the kind of big mouth people were talking about. Haha! Our first sushi roll at Sumo was the Winter Roll. This roll is a nice one to start with as it uses pretty typical sushi ingredients. It contains Tuna, Avocado, and Krab, this roll is a great example of the value you get at Sumo. Since this is a fairly common combination of ingredients, it's also easy to straight up compare the ingredients at Sumo and other Sushi places I've eaten at around town. Sumo does a great job of providing tasty fish at a fair price. The combination of flavors was nice and the presentation was good as well.
Our favorite dish of the night was our next roll, Pepper Tuna Roll. This is a roll I've had before, but the way Sumo did it was a step above the typical version. In this preparation the Tuna is seared with a light application of black pepper. The sear on the tuna was about 1/8" deep and completely uniform all the way around. I don't usually focus on prep like that but in this case it caught my eye. In addition to the pepper Tuna the roll contained spicy tuna and shrimp tempura. This might be my only complaint of the
night as the size of the roll made it nearly impossible to get everything in one bite. One problem I find with a lot of sushi is that anything tempura is so hard and crunchy everything else in the roll gets smushed, OR the tempura gets soggy and the crunch is missing. Sumo sushi rolls don't have this issue. The tempura had just the right firmness without crushing other ingredients and it wasn't a bit soggy. The sashimi was all enjoyable. We had no complaints there but we won't break it down one by one since it's generally either good or just not very fresh. This as seemed fresh and tasted good. Pretty soon the hibachi chef headed out to start the meal. More than anything else we tried or experienced I think the thing that sets Sumo apart most is the quality of their hibachi chef's. When you sit at a grill table you're there to be entertained. As more and more Japanese Steakhouses have popped up hibachi chefs have really declined as far as entertainment goes. All too often they show up and tell the 3 standard jokes they must all get taught in training then finish cooking as fast as possible and leave. Sumo's hibachi chefs seem to really love their jobs and know how to have a good time. As we were eating sushi and soup and salad I was watching the couple of tables around us. I was impressed with how the chefs had embraced the fact that they're entertainers as well as cooks. The folks eating at the tables were clearly enjoying the show and having a great time. Our chef was no slouch and we enjoyed watching his skills and the show he put on. We tried the steak, shrimp and chicken. It came with the standard vegetables you'd expect, plenty of fried rice, and noodles also. Everything was cooked correctly. The chicken was tender. The steak was enjoyable and had decent flavor and the shrimp were good too. Sumo serves the standard shrimp sauce we've all come to love drowning our fried rice with and they serve a ginger steak sauce which is also typical at most Japanese Steak Houses. In their case though they use a healthier version with lower salt than the typical ginger sauce. I actually liked the taste of this one better than the standard ginger based steak sauce. The vegetables we were served were good. They had a nice crunch to them and weren't overcooked.
The service at Sumo was really good. The waitress was friendly and pleasant. She kept our drinks full and made sure to take good care of us.
Overall we had a great experience at Sumo. Good service, good food, and entertaining chefs made for an enjoyable evening. We'd recommend to anyone looking for a fun place to have a nice dinner to check this place out.
Note: On this visit we were invited to the restaurant by the owner and this was a comped meal. When the restaurant comps our meal rest assured we make no guarantee of a positive review. We're committed to offering our readers a fair and honest critique of every restaurant we review on our site. If we have a poor experience when invited by the owner we may elect not to write a review at all and provide the owner with a written critique in order to help them improve. We haven't yet run into this situation.