The Philly Cheesesteak! It's one of the great American foods. Traditionally a cheesesteak is frizzled beef, melted cheese, and onions on a hoagie roll. It originated when Pat and Harry Olivieri decided to try something new at their hot dog stand in Philadelphia. They became so successful that Pat opened up his own restaurant selling cheesesteaks, Pat's King of Steaks which is still family owned and operated to this day. If you ask Philly transplants to Jacksonville where to get a good cheesesteak in town most will tell you they haven't found one…..that is, unless they live at the beach in which case they'll definitely have a favorite to recommend. Our biggest pet peeve when people create lists of "The Best" of something in Jax is that they almost never have tried every restaurant that is relevant. How can you claim something is the best if you haven't tried half the places that should be considered? Additionally it makes me crazy when I read a "Top 20 restaurants in Jax" list and half of them are in St Augustine. So we limit restaurants on our Top 5-10 lists to restaurants physically in Duval County. Here's how we went about building this list. First, we asked chefs, restaurateurs and other food writers/bloggers to share with us the restaurants that should be considered. Those restaurants went on our list to try. Next, we asked our readers for places to try. The ones that got mentioned multiple times or seemed to have some traction ended up on the list. Then we did our own research to see if we were missing anyone that seemed to stand out. Those went on the list. Then we made a two day trek all over town from the beaches all the way to the Westside and everywhere in between. We learned a lot sampling an insane number of cheesesteaks in a very short amount of time. Frankly we can hardly look at a Cheesesteak at this point but we can also pretty definitively claim that we've sampled more cheesesteaks in the area than anyone else in town. Before we get down to business and share this list the last thing we should tell you is how we ordered our cheesesteaks. In Philly the most popular cheese by far is cheese whiz outselling the 2nd most popular American by a margin or 8 to 1 at Pat's King of Steaks. If a restaurant carried whiz we ordered two steaks, one with whiz and one with American. If they didn't carry whiz we just ordered one with American (or if they didn't have American then some other similar substitute). Without further adieu, here's who has the Top 7 Cheesesteaks in Jacksonville, Florida: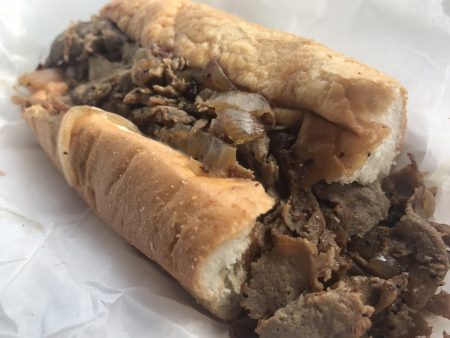 Honorable Mention:
[CLOSED] Empire City Gastropub
Neighborhood: Intracoastal West
Address: 13475 Atlantic Blvd #1, Jacksonville, FL 32225
A few months ago the creators of Epic Burger opened this true gastropub offering creative fare that we at Jax Restaurant Reviews are big fans of. Their Empire Cheesesteak doesn't really qualify as a Philadelphia style cheesesteak so we didn't think it was fair for us to rank it along with all of the more traditional cheesesteaks on this list. With that said we enjoyed it so much that we felt we'd do our readers a disservice if we failed to mention it. The Empire Cheesesteak comes with shaved angus steak + onions + mushrooms + hot & sweet peppers + choice of: provolone cheese + gravy OR beer cheese sauce. We went with beer cheese and were pretty much blown away. This take on a cheesesteak has just become one of our favorite sandwiches in town, as sacrilegious as it may be.
DRUMROLL………………………………………………………
COUNTING DOWN OUR TOP 7 CHESESTEAKS IN JAX……..
#7
D&LP Subs
Neighborhood: Jax Beach
Address: 1409 3rd St S, Jacksonville Beach, FL 32250
Brothers Chris Lewis and Dan D'Ambrosio always dreamed of owning their own restaurant and D&LP is the fulfillment of their dream. D&LP is a tiny little sub shop tucked away in a strip mall on 3rd Street in Jax Beach. They serve pizza, pasta and subs. They offer cheesesteaks in 8, 12, and 18 inch varieties. The American cheese we ordered was distributed perfectly evenly throughout. The meat was flavorful and there was a good amount of it. We're confident that if you bite into this cheesesteak you'll be a fan.
#6
Son of a Butcher Food Truck
Find their location and schedule on their Facebook page here
We asked food truck chefs who has the best cheesesteak in Jax and the majority we asked told us Son of a Butcher. This truck came about when owner Randy Leibl felt he just couldn't find a quality cheesesteak in Jax. He called his niece Danyelle who was working in a cheesesteak shop in Baltimore and asked her to come down and start a food truck with him. The rest is history. Son of  butcher's bread that holds up well to all the meat and cheese piled on. The meat is good quality and they serve plenty of it on each cheesesteak. The cheesesteak with cheese whiz was served maybe a hair more whiz than we thought it needed but was still very good. The sandwich wit white American had the perfect cheese to meat ratio and they did a good job of distributing it evenly throughout and making sure it was all nicely melted.
#5
Eddis and Son's Food Truck
Find their location and schedule on their Facebook page here
This cheesesteak focused food trucks offers all manner of cheesesteak oriented goodness. Want Whiz? They've got it. Chicken cheesesteak? Got it. Pizza cheesesteak? They've got one of those. They use the beloved Amoroso roll that so many of the best Cheesesteaks in Philadelphia are served on. The meat on Eddis and Son's cheesesteaks was by far the fattiest of any we tried. It was teeming with flavor! It was also just a bit gristly. They were a bit heavy handed on the cheese whiz for our taste which was slightly overwhelming but still plenty enjoyable. The cheesesteak with white American was pretty killer.
#4
Surfwiches
Neighborhood: Jax Beach
Address: 1537 Penman Rd, Jacksonville Beach, FL 32250
When we walked into Surfwiches like every other order I placed I started by asking them to make me a cheesesteak with Whiz. The woman taking orders looked at me like I was crazy then went on a diatribe about how she thinks Whiz is something they do in northern Pennsylvania. "People in Philly don't eat their cheesesteaks with Cheese Whiz." All I could do was laugh. Surfwiches bills itself as North Florida's only authentic steak and hoagie shop. Their cheesesteak checks in as the most expensive in town at $10.19. However, it's also the largest in town. The meat is flavorful and their bread is filled with just the right amount of it. According to their website their giant rolls come from Cinotti's and their meat comes from Orlando. They've been a perennial winner of "Best Sandwich in Jax' from the Florida Times Union.
#3
Sub Cultured
Neighborhood: Mayport
Address: 10 Donner Rd, Atlantic Beach, FL 32233
Subcultured Sandwich Eatery is a fun little hole in the wall sub shop offering all manner of creative sandwiches and french fry creations. Like every place we went we attempted to order two cheesesteaks, one with whiz and one with white American cheese. Subcultured informed us they don't offer American cheese at all and gave of 5 other choices. We opted for cheddar since it's likely the closest cheese taste wise to American(we're shooting for consistency in comparison). Subcultured has bread we really loved. If we're honest we actually liked it even more than the vaunted Amoroso rolls. We're told it is baked locally at Cinotti's which may account for why we preferred it over Amoroso since the Amoroso rolls were all likely frozen at some point. The bread could stand up to the cheese and juices of a cheesesteak without becoming soggy. Subcultured offered the spiciest of any cheesesteak we tried which for me was a slight distraction and for my fellow on this journey was a bit of a plus. When we picked up our cheesesteaks one was labeled Whiz and the other Real Cheese….a little jab at our attempt to order American. We got a kick out of that. Subcultured puts the fun in subs.
#2
Bongiorno's
Neighborhood: Mayport
Address: 2294 Mayport Rd, Atlantic Beach, FL 32233
Ask around town who has the best Cheesesteak in Jax and one of the names you'll hear over and over is Bongiorno's. Bongiorno's started as a little hole in the wall cheesesteak shop on Mayport road. A couple of years ago they opened a pizzeria and then merged the two together so they have one good size pizza and cheesesteak shop. If you're looking for Bongiorno's look for the giant sign that just says Pizzeria. The owners Deanna and Jeff(who recently passed away) Bongiorno are originally from Philly and truly understand what a cheesesteak should be. Bongiorno's has been my favorite cheesesteak in Jax for years. I had the good fortune to be introduced to Jeff while dining at the restaurant a couple of years ago. The passion he and his wife had for what they do was clearly evident and the pride they take in everything they serve is obvious. Many chefs will tell that the most important ingredient in a dish is love. That's what I taste when I eat at Bongiorno's. They get Amoroso rolls(again the gold standard in bread) in from Philly. They offer Whiz or white American. Their cheesesteaks are well balanced so that the cheese is not overwhelming. The meat is flavorful without being too fatty. To say that we're fans is an understatement.
#1
Philly's Finest
Neighborhood: Jax Beach
Address: 1527 3rd St N, Jacksonville Beach, FL 32250
I walked into Philly's Finest and headed up to the bar to place our order. I was immediately greeted by a gregarious guest with an empty beer glass and a wrapped cheesesteak sitting next to him. He proceeded to rave unprovoked that Philly's Finest has the best cheesesteaks in Jacksonville. He had no clue who I was and I never volunteered that I was sampling cheesesteaks around town. I asked him why, honestly expecting to get some kind of useless answer. He actually had a great one. "The owner is from Philly. He ships in Amoroso rolls and meat straight from Philly to make sure you get the most authentic experience possible." We can attest that the cheesesteak at Philly's Finest is truly a thing of beauty. Amoroso rolls are as authentic as it gets for bread. Whiz wasn't listed on the menu as an option but when we asked the bartender we ordered from let us know they had it. Their cheesesteak with whiz is very balanced with just the right amount of whiz so that it's not overwhelming but the processed goodness and whiz punch came through to exactly the right degree. Their cheesesteak with white American cheese was beautifully and evenly melted throughout the sandwich so that every bite had cheese in it and just the right amount. These cheesesteaks are sheer perfection and we can definitively say there is no better cheesesteak in Jacksonville. We should also mention that along the entire length of their bar runs an ice bar so your beer sits on ice the entire time you drink it. The restaurant also has 8 giant screens you can see whatever game is on from anywhere in the restaurant. This was our first time ever walking into Philly's Finest and it surely won't be our last.
Other cheesesteaks we think you should try that just missed making the list:
Paddy's Pizza
Mandarin
9850 San Jose Blvd, Jacksonville, FL 32257

Picasso's
Mandarin
10503 San Jose Blvd, Jacksonville, FL 32257
Pine Grove Deli and Market
Avondale
1511 Pine Grove Ave, Jacksonville, FL 32205

Thanks for reading! Go forth and eat cheesesteaks!