We made our first visit to Royal Palm Village Wine and Tapas around a year and a half ago. Since then the restaurant has evovled a lot and we constantly hear how great it has become. We were recently invited back out to experience the restaurant again and try out the new fall menu that their extremely talented Chef Chris Robert created and cultivated with love.
Address: 296 Royal Palms Drive, Atlantic Beach
Phone: 372-0052
Coconut Curry Carrot Soup: (daily special) I hate carrots, but I love this soup.  It had the perfect amount of curry flavor to warm our souls.  It's hard to master Indian flavors this well and have it taste authentic, but Chef Chris nailed this item spot on.  The creamy soup is balanced by the mild carrots to make it an easy appetizer, whether you enjoy spicy food or not.  I already foresee an incessant craving for this soup as soon as we get a snap of cold weather.
Local Kale Salad: ($8) This is one phenomenal salad.  The greens blend was fresh, crisp, and bright and the mix of shaved apples, toasted pecans, and red onions reflected all the best flavors of fall.  It was topped with an anchovy and garlic vinaigrette that added a rich, briny, salty flavor to the salad.  I could swim in this dressing and be very content.
Oysters Rockefeller: (market) Alright oyster lovers, I have found the best oysters rockefeller in town.  Just.  Wow.  These oysters melt in your mouth.  There is so much cream that it pools in the bottom of the shell beneath the oyster.  The salty bacon and sweet cream compliment the extremely fresh oysters.  These are available by the half dozen or dozen and are perfect for sharing.
Ahi Tuna Carpaccio: (market) First off, I've never seen tuna so immaculately and delicately sliced.  High quality tuna can't be faked – this is definitely fresh and premium quality.  Each slice is lightly crusted in black pepper around the edges and covered with arugula, truffled vinaigrette, and fried capers.  Fried capers are a stroke of genius.  These crispy and salty little bites should be available as a bar snack, but paired with the tuna it gave the dish so much depth.  I'd take an order of this every day for the rest of my life and still always be craving more.
Tea Brined Smoked Duck Breast: ($14) Few places in Jacksonville prepare duck correctly.  It's a dangerous protein because it is so easy to overcook.  Chef Chris presents his duck over a bed of airy, pillowy whipped sweet potatoes and tops the slices of duck with an Asian inspired salad of sesame, ponzu, and radish sprouts.  The duck is tender – nothing but a fork required to cut through each slice.  The fat on the outside is seared to where it simply melts through each bite.  I do wish the duck would have been sliced slightly thicker so that each bite could hold up the salad and a bite of sweet potato as well, but it is just as delicious eaten separately.
Local Mayport shrimp: ($13) Creamy and sweet polenta is the base of this spin on a traditional shrimp and grits topped with a "gravy" of blistered tomatoes, pancetta, sweet corn, and basil veloute.  This is a full entree size versus the tapas sizes of the other dishes.  Six tender Mayport shrimp are perched in the polenta so that each bite has every layer of ingredients.  This dish came off a touch too herbal for me personally, but for those who want a unique spin on traditional shrimp and grits, this is for you.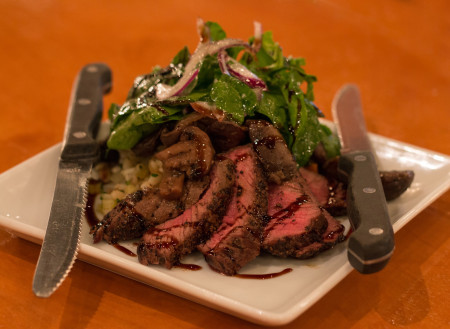 Pepper seared black angus sirloin: ($13) This is another entree sized portion and is probably the best deal for high quality steak in town.  The steak temperature was seared perfectly medium for us and served with a side of barley pilaf, portobello & sweet onion confit, and arugula.  While called "peppered" this is a light peppery flavor, so don't be intimidated if you're not a huge fan of spice.  The sweet salad was light and refreshing and the barley pilaf had a wonderfully unique texture with the larger barley grains.  I haven't seen barley on a menu any time recently and loved it as a compliment to the hearty steak.
Desserts: ($6) The assortment of desserts at Royal Palm changes daily, so make sure to ask what Chef Chris is featuring each time you visit.  We were treated to a pumpkin cheesecake that was impossibly dense and light simultaneously.  It was an excellent seasonal treat.  The other dessert we tasted was an espresso flan/torte, which stole the show.  This was one of the richest desserts I've ever tasted and had bottom notes of dark chocolate and top notes of dark espresso.  This chocolatey decadence got a moment of silence from me and my friend as we let each bite melt in our mouths.
In addition to the excellent tapas, Royal Palm also has a mind-blowing wine selection (1200 bottles!) to choose from with a reasonable corking fee.  On Mondays, the corking fee is waived and I imagine that's going to be one of their busiest nights.  They also do weekly wine tastings.  One of the other things I love about Royal Palm is that Chef Chris has started a chef's garden in the front of the restaurant to provide his lettuces and herbs.  You truly can't beat eating something that has been picked especially for your dish that you ordered.  That special touch exemplifies the care that Royal Palm is putting into the entire dining experience.  The phenomenal food paired with some of the best customer service I've received in recent memory actually led to a return visit for me and a few friends just a week later.  The food and service maintained consistency on both visits – absolutely superb.  If you try one new restaurant soon, make it Royal Palm.  It deserves to be in everyone's dining rotation.
Note: From time to time we're invited out to try a restaurant or to taste new menu items. This meal is usually comped, as this one was. We're under no obligation to write a positive review or any review at all when we're invited out to try a place.  Every review you see on our site will be an honest review of the place whether or not the restaurant provided us with the meal at their cost.
Photos courtesy of Jill Cruz.