Pierre's Eatery is a lunch and dinner spot with a unique story, an awesome partnership, and some delicious food, now open on the Southside at Butler and Phillips. Pierre himself hails from New York, from a neighborhood with a large Jewish and Muslim population. Pierre's challenge in New York was to create delicious pizzas and pastas and strombolis without using any pork products at all. Not easy when we're talking pepperoni, sausage, ham, and bacon! Luckily, Pierre found a small purveyor of all beef pepperoni and other pork free meats. Things were off and running at Pierre's in New York. When Pierre moved to Florida and was opening a new restaurant he was faced with a conundrum. Should he find a new supplier for all his meats, or stick with the quality he knew he could rely on, even though pork would likely not be an issue? In the end, Pierre went with the quality pork free products he knew. It may seem like a non-issue, but Pierre's pork free foods got him a golden opportunity. NAS Jax was looking for eateries for a food court style area on the base. The Navy is incredibly diverse with sailors of many religions and also food requirements. The fact that Pierre could run a restaurant with fresh, delicious pizzas and have everything be 100% pork free was a big draw for the Navy. So Pierre got the gig at NAS Jax. He also opened an eatery in downtown Jax, in Orange Park, and in the food court at the St. Augustine Outlets. Along the way Pierre's Eatery joined forces with Jacksonville's beloved Three Layers Cafe, formerly of Springfield. You can find fresh baked desserts and a coffee bar at the NAS Jax and St. Augustine Outlets Pierre's Eatery locations, and now at the newest location on Phillips and Butler.
No two Pierre's Eateries are exactly alike, but there is always fresh dough made from scratch, simmered pizza and pasta sauce, fresh veggies, and pork free meats. We tried out the new Pierre's location at Phillips and Butler and found it to be a great family friendly addition to the Jax restaurant scene. Its clean and streamlined layout was inviting, and we got a great sense of the ethos of Pierre's from the decor. "Scratch made dough", "No pork ever" and "Feed your soul" on the walls gave us a glimpse into the values of Pierre's Eatery. We tried pizza, strombolis, salad, mac and cheese, and desserts. We saw some kids working their own dough, which the team then finished with sauce and toppings and baked into a pizza for the kidlets.
Let's talk 'scratch made dough'. We've eaten our share of pizzas around town. This dough was truly delicious. It had good flavor and a nice snap to it when you bit into a slice. We really loved the dough from the slice of pizza to the strombolis. The strombolis come with a cup of sauce for dipping, but you should ask for an extra cup because you'll run out- it's that good. We've had plenty of red sauces and this one was exceptional. It was rich and not bright tasting or tart as tomato sauces can sometimes be. One stromboli was "The Greek"- it had feta, spinach, mushrooms, and tomatoes. This was yummy and flavorful and great with the red sauce. The other stromboli was the pepperoni and sausage. It was fantastic. The saltiness of the meat was so nice with the gooey mozzarella and fresh dough.
So how was the pork free meat? Could we tell it wasn't regular pepperoni? Well, we loved it in the stromboli, and we didn't love it as much on the deluxe pizza. It was just more exposed on the pizza. It was noticeably less greasy than typical pepperoni, which most people would appreciate. The sausage was great on both the pizza and the stromboli. Would a restaurant draw me in by being pork free? It's not something I'm particularly concerned about, but I'm just one person. There are plenty of people who would love to eat pork free pepperoni pizza, or a big ole meaty stromboli sans pork. Pierre's Eatery is a great option and addition to Jacksonville.
We were delighted to see some of our favorites from Three Layers Cafe in the dessert case. We tried J Squares, which tasted exactly as sugary and gooey as we remembered. We tried Strawberry Cupcakes and Black and White Cupcakes, both of which thrilled us with yummy surprise fillings inside soft and luscious cake with rich frostings.
We savored all the offerings at Pierre's Eatery, from fresh pizzas and strombolis to a crisp salad to tasty desserts by Three Layers Cafe. This fast casual spot is great for lunch or a family friendly dinner, especially with its convenient location at the end of Butler Blvd on Phillips. We are so glad Pierre stuck to his guns on his supplier and is offering food nearly anyone in Jax can eat.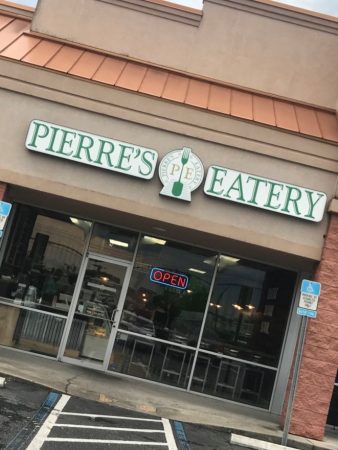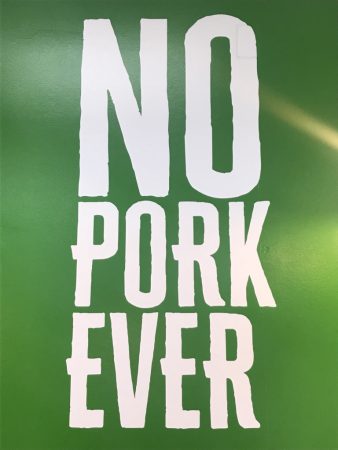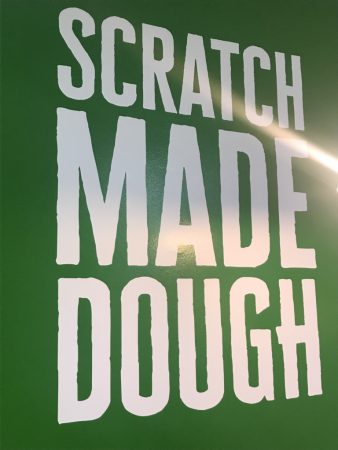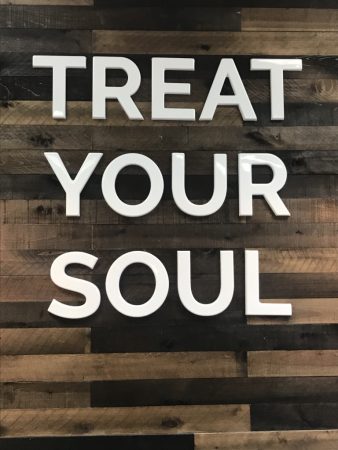 Note: From time to time we're invited out to try a restaurant or to taste new menu items. This meal is usually comped, as this one was. We're under no obligation to write a positive review or any review at all when we're invited out to try a place.  Every review you see on our site will be an honest review of the place whether or not the restaurant provided us with the meal at their cost.