In the wake of Hurricane Irma we have seen an outpouring of support from the Jax restaurant community to help neighbors and feed first responders. From the quiet way Your Pie in Fleming Island comped meals in the wake of the storm for neighbors that lost everything in flooding, to the appreciation Cool Moose showed for everyone that helped clean up Memorial Park, we couldn't be more grateful or inspired by the First Coast.
The need for help and assistance hasn't ended in the wake of Irma, and neither has the love and support from our restaurant community. Terry Rountree, owner of Treemendous food trucks, has set a goal to take one of his trucks to the Florida Keys for a week to feed residents there for free. While there can be no comparing the total losses from Irma around the sunshine state, the widespread devastation in the Keys is particularly heartbreaking. Roads are completely covered in sand from the beaches, buildings are severely damaged or destroyed, boats that were anchored in the ocean are strewn across land. It will be a long time until the Keys are up and running.
Like many of us, Rountree says he "absolutely love[s] the Florida Keys" and visits a few times each year. Rountree is counting on that collective love for the keys by crowdfunding a week's worth of expenses in order to take a food truck as far south as he can to feed people. Sure, Keys residents, first responders, and all those helpers who lend a hand in the aftermath could survive on Dinty Moore beef stew and MREs, but we all know how comforting a good meal can be in the wake of a crisis when our world is still upside down. Treemendous BBQ and the new Treemendous Sea & Soul Food are both equipped to provide that special kind of heart relief that comes with a fresh hot meal prepared with love.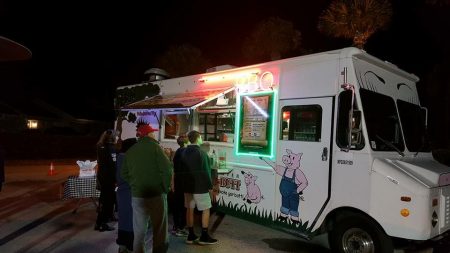 If you'd like to help provide comfort to the Florida Keys from the First Coast, you can help Terry Rountree reach his goal by contributing to the expenses here:
Help Treemendous Food Trucks Feed The Keys