Venezuelan Dinner Adventure
October 17, 2018 @ 7:00 pm

-

9:00 pm

$24.99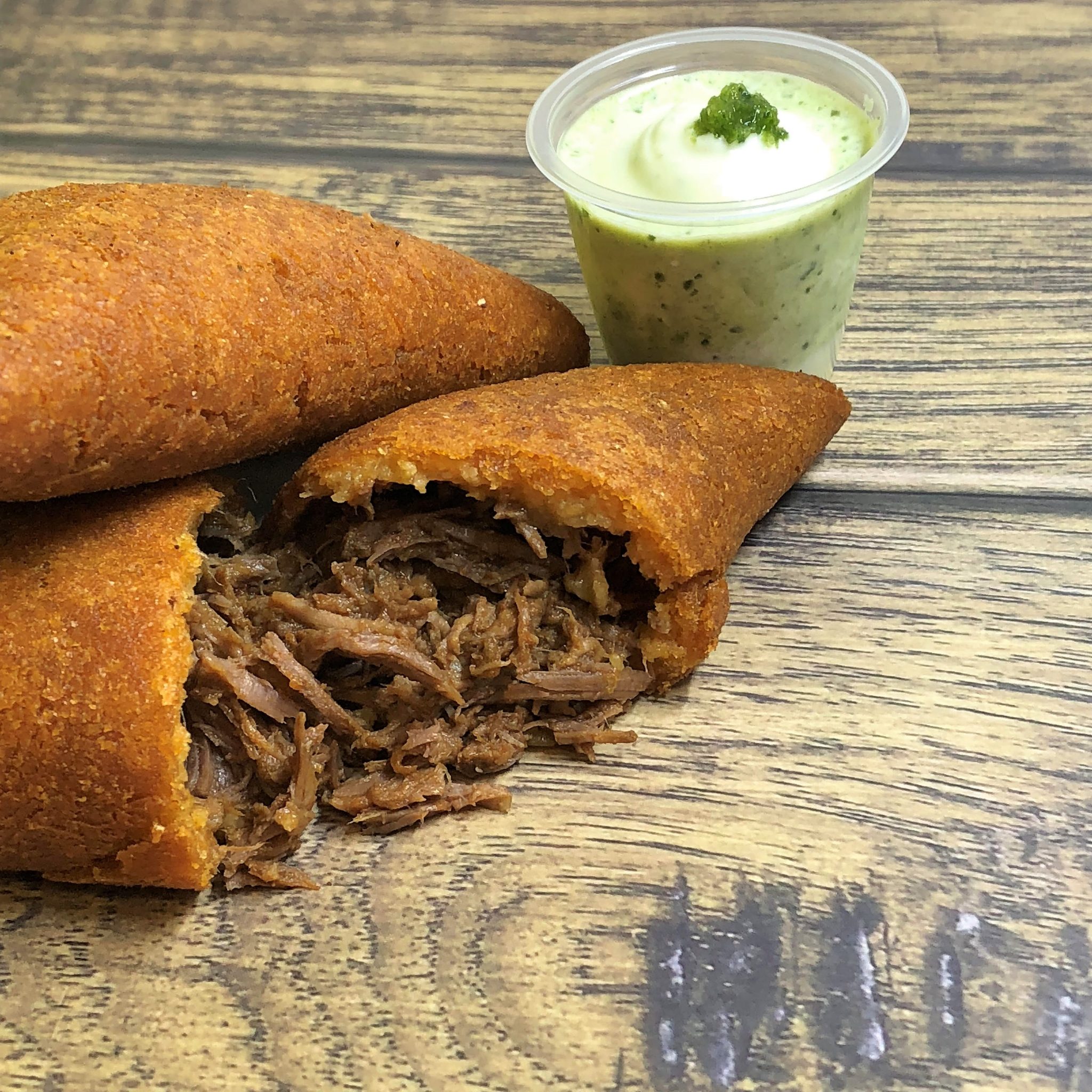 Sotos kitchen is a firecracker of a small restaurant on the southside. If you go and try it you won't soon forget it. Specializing in Venezuelan cuisine, Soto's Kitchen serves arepas to empanadas to tostones to cheesy delicious cachapas. Nearly all of it is accompanied by Soto's Kitchen housemade cilantro garlic sauce. We liken it to Venezuelan ranch- it's good on everything and you can't get enough.
The story behind Soto's Kitchen is a beautiful American-Venezuelan story. Both the owner, Aristides Soto, and the chef, Lorelen, were friends as children back in Venezuela. They lost touch and each immigrated to the US. One day Aristides' daughter said she made a new friend in school. It turned out to be Lorelen's daughter. Aristides and Lorelen couldn't believe over all the miles and years their paths had crossed again. Aristides was in the process of opening a restaurant and still needed a chef. Lorelen was the perfect candidate. Together they have created a restaurant spilling over with pride for their heritage and appreciation for their new home and community. Truly it is our gain to have Soto's Kitchen, Aristides, and Lorelen in Jacksonville.
We are thrilled to offer this Dinner Adventure featuring a wide variety of Venezuelan dishes from Soto's Kitchen. If you've never been you are in for the treat of the year. If you are familiar with the food at Soto's Kitchen you know what an incredible, mouthwatering deal this is.
Menu
Course One
Shredded Beef Tostones, a sandwich of shredded beef with fried plantain slices for the "bread"

Course Two
Pernil (Pulled Pork) Arepa, a corn patty split open and stuffed with meat. 

Course Three
Chicken Cabimera, a uniquely Venezuelan dish similar in concept to loaded fries. Arepas are cut into pieces and fried, and topped with meats, cheeses, lettuce, boiled egg, sauces

Course Four
Shredded Beef Empanada, a savory pastry stuffed with meat, essential Latin-American street food

Course Five
Cheese Cachapa, a slightly sweet, corn pancake-like dish, stuffed with mild white cheese

Course Six
Nutearepa, a dessert arepa stuffed with nutella
*We utilize community style seating
*Gratuity not included in price of ticket
*Contact Lisa @JaxRestaurantReviews.com with any questions or concerns